Fourteen year old Tyce Pender of Cayce, S.C., has started his own lawn mowing business using a $200 loan from his mom to buy a new lawnmower, rake, and leaf blower. To date, he's mowed nearly 20 lawns and earned over $400.
That's a nice stack of cash! He could now afford a new video game system, a primo new bike, or even some great new threads. But Tyce isn't saving for games, gadgets, or new clothes. He's saving for something far more important — his own adoption!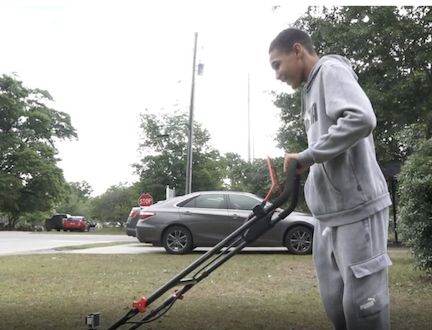 Tyce's step-dad, Eric Jenkins, came into his life when he was just 2 yrs old. He's been there every step of the way to raise him, mentor, him, encourage him, discipline him, provide for him, and protect him. He's been everything a father could and should be to Tyce.
The family's goal, from the beginning, was for Eric to adopt him. Yet times are hard and finances are short. So both Tyce and Eric have had to be patient and settle for Eric's fulfilling the role of "awesome step-dad" rather than "adoptive father." But their patience may not have to hold out much longer if Tyce has his way.
He has committed himself fully to raising money and saving toward the legal fees necessary for him to officially take Jenkin's name and to be able, finally, to call him his legal father.
"This is important because Eric teaches me respect, independence and what a man is supposed to be," explained Tyce. "If anything ever happens to my mom, Eric is who I'd want to live with. … Court is expensive," said Tyce. "I thought I could make enough money to pay for the adoption."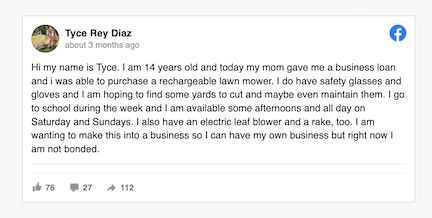 Tyce may have to work hard to pay the legal fees required to be officially recognized as Jenkin's son, and good on him for doing so!
But thanks be to God that adoption into His family has been paid in full by Jesus Himself!
"But when the fullness of time had come, God sent forth his Son, born of woman, born under the law, to redeem those who were under the law, so that we might receive adoption as sons. And because you are sons, God has sent the Spirit of his Son into our hearts, crying, "Abba! Father!" So you are no longer a slave, but a son, and if a son, then an heir through God" (Galatians 4:4-7, ESV).
"This means that it is not the children of the flesh who are the children of God, but the children of the promise are counted as offspring" (Romans 9:8, ESV).
"But to all who did receive him, who believed in his name, he gave the right to become children of God … " (John 1:12, ESV).