If we were to peek behind the drywall in this room and notice that all of the vertical studs had been removed, and there were only horizontal beams, we would leave the building as soon as possible. And likewise, if the building only had vertical studs and no horizontal beams, we would feel unsafe knowing that the building was not stable. We'd run for the exits!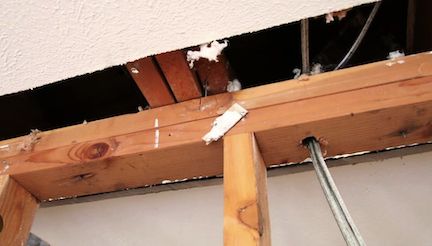 Likewise, if we took a piece of fabric and pulled out all of the vertical or horizontal strands, we would be left with nothing but a handful of strands and dangling threads in either hand. The piece of fabric only exists because the strands run in different directions, giving body and support, and form to the cloth.
God's love is limitless in every direction (Eph. 3:18).
"And may you have the power to understand, as all God's people should, how wide, how long, how high, and how deep his love is" (Ephesians 3:18, NLT).
God's love is not one dimensional. He instructs us and shows us to love one another, even as He has love us, because our love for Him and others originates from Him and the sacrifice of Jesus Christ on our behalf (1 John 3:16; 4:7-10).
Jesus' death reveals us to be liars when we say things like, "I love God with all my heart, but I just can't get along with him/her." Or, "I get along with everyone, but I just don't have any time for God."
We fool ourselves when we say we love Him (vertical strands of faith), but do not love others (horizontal strands of faith). Or when we say we have love and care for our fellow man, but show no love or care for the God who created us all.
Like a poorly constructed building or poorly woven cloth, our love and relationships are flimsy at best and dangerous at worst, when they are not rooted and grounded in the multi-dimensional love of God.
What an opportunity to grow in our love for one another as we pursue a deeper relationship of love for God!