Elizabeth Barrett Browning, the English Romantic poet, is known for the first line of Sonnet 43.: "How do I love thee? Let me count the ways." She was reared with privilege, wealth, and the finest education, but her health was compromised by an equestrian accident.
When she eloped to marry Robert Browning, her controlling father disinherited her. She published many works of various types throughout her life, and this allowed her to become independently wealthy despite her poor health.
Robert became enamored with her writing, and they corresponded for two years. During this time, she wrote poems expressing her fervently love for Robert. For all that she wrote in her relatively brief life, her poetry stands out, especially Sonnet 43.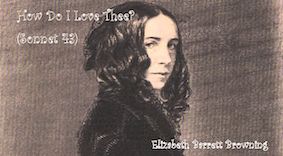 The title above Psalm 92 reads, "a song for the Sabbath day." That connects its words to worship, and this psalm shows the writer's deep adoration for God. He never uses the word "love," but his affection for God is obvious. It seems that the writer gives several proofs of that love here. Notice how.
HE GIVES THANKS TO THE LORD (1)
HE SINGS PRAISES TO HIS NAME (1,3-4)
HE DECLARES HIS LOVINGKINDNESS AND FAITHFULNESS (2)
HE PRAISES GOD'S WORKS AND THOUGHTS (5,8)
HE SCORNS THE WICKED WHO OPPOSE GOD'S WAY (6-7,9,11)
HE APPRECIATES THE BLESSINGS OF A GOD-APPROVED LIFE (10,12-14)
HE EXPRESSES CONFIDENCE IN THE CHARACTER OF GOD (15)
One of the most rewarding exercises you can engage in is to enumerate the ways you love and appreciate God. Do it in your prayer life; spend time praising God and be specific in expressing your adoration and admiration. Think deeply about it. Look around. Look into your life. Consider what looks like His providence in your life and the life of others. Count your blessings, and tell God what you are thankful for. Wait! Did you mention running water, hot water, reliable vehicles, paved roads, coffee, air-conditioning, music, puppies, baby's breath, eyesight, and brisket? What about the church, salvation, prayer, the Bible, peace, the hope of heaven, His guidance and protection, the elders, deacons, Bible teachers, your spouse, your parents, and your children?
This will build your love and appreciation for God. It will remind you of how much He loves you and cause you to love Him more. It will humble you and help you focus on the fount of your every blessing! It should make you a better, more obedient servant for Him. How do you love Him? Like this psalmist, count the ways! It will lift your spirit and open your eyes to a harvest ripe with those who need what you have. Get counting!