Wendy, who's fallen in love with Peter Pan, confronts him about his feelings:
"Peter, what are your real feelings?"
"Feelings?" he asks.
"What do you feel? Happiness? Sadness? Jealousy? Anger? Love?"
"Love? I have never heard of it."
"I think you have, Peter. I daresay you've felt it yourself…for something, or someone."
"Never. Even the sound of it offends me."
Wendy reaches for Peter in a loving gesture, and suddenly he runs away, shouting, "Why do you spoil everything? We have fun, don't we? I taught you to fight and to fly. What more could there be?"
"There is so much more," she answers.
"What? What else is there?"
"I don't know. I think it becomes clearer when you grow up."
"Well, I will not grow up! You cannot make me! Go home and grow up. And take your feelings with you."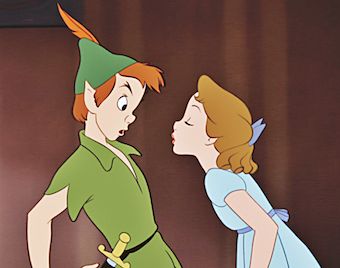 There are a couple of interesting parallels between Peter Pan and the first-century believers in Corinth. First, like Peter Pan, the Corinthians refused to grow up. In 1 Corinthians 3:1-2 Paul wrote, "And I, brethren, could not speak to you as to spiritual people but as to carnal, as to babes in Christ. I fed you with milk and not with solid food; for until now you were not able to receive it, and even now you are still not able."
Despite the fact that most of them had been believers for many years at this point, they failed to mature.
What was the cause of their arrested development? Just like Peter Pan, they resisted acting in love. The Apostle Paul, in an effort to jump-start their spiritual lives, points the Corinthians to the "most excellent way," an introductory reference to the famous "Love Chapter," 1 Corinthians Chapter 13.
Love is central to the process of maturity because it causes us to shift our focus from ourselves to others.
What about you? Are you a Peter Pan Christian?