You know, as I was thinking about the promised reward found in Matthew 5:12, it made me think of the work I am currently doing as a preschool teacher. Now, most days at work are pretty OK - the people are friendly, the kids are behaving well, and it's just a normal day.
But then there are some days when it feels really difficult. Maybe it's that I'm not getting along well with one of my co-workers, or maybe the kids are being particularly naughty that day, or maybe it's just one of those super busy days - and I find myself getting irritated, frustrated, tired, and grumpy.
Now, do you know what always helps to lift my mood? I just think about payday. I imagine that there is a day coming when I'm going to be paid for all of my trouble. Now maybe that doesn't make the problem go away - but it does a lot in changing my attitude toward the problem.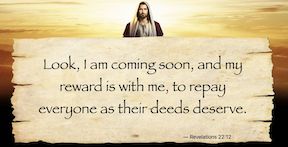 The kind of reward that Jesus promises in Matthew 5:12 is far greater than a temporary paycheck at the end of the month. Here, Jesus is talking about a heavenly reward. In fact, Jesus calls it a great reward. It is far, far better than any good thing you and I can think or imagine. And this blessing, this reward that Jesus is talking about, is forever!
"Blessed are you when people insult you, persecute you and falsely say all kinds of evil against you because of me. Rejoice and be glad, because great is your reward in heaven, for in the same way they persecuted the prophets who were before you." (Matthew 5:11-12, NIV).