Jim Thorpe, born May 28, 1888, in the Indian Territory of Oklahoma, has been acclaimed as one of the most accomplished "all-around" athletes in history. In fact, in 1950 he was selected by American sportswriters and broadcasters as the greatest American athlete of the early 20th century.
He was predominantly of American Indian descent and attended Indian schools growing up. Financially poor and underprivileged by any standards, he was every bit rich in athletic prowess. He played it all – baseball, football, basketball, boxing, lacrosse, swimming, hockey, and most famously, track and field.
Strong as a bull and fast as lightning, Thorpe competed in the Stockholm Olympics of 1912 in both the Pentathlon and the Decathlon. But just before he was set to take the field he discovered someone had stolen his shoes. Undeterred, he searched for another pair.
What he found was not a "pair," but rather two different sized, different styled shoes discarded in a trash can. To make the larger of the two shoes fit, he had to wear extra socks.
Dressed in his pauperish, mismatched replacements, he humbly took to the field and won Gold Medals in both competitions.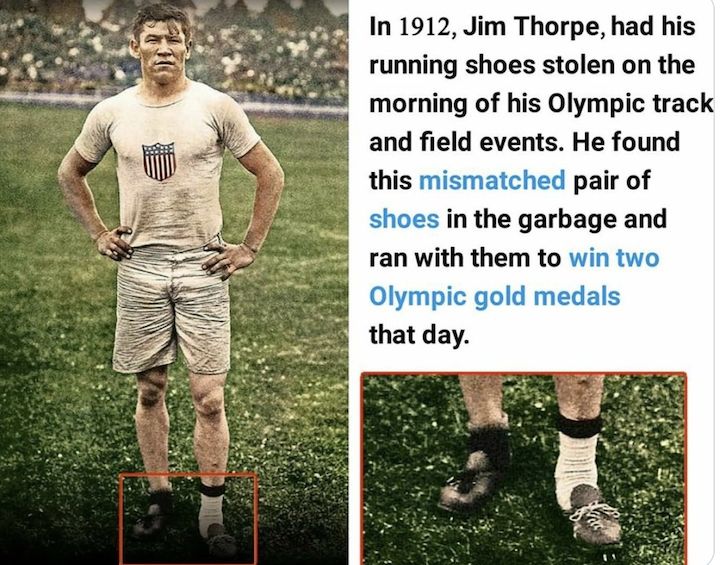 God has set a race before you. He's challenged you to ready yourself. Even so, unexpected obstacles can (and will) present themselves. It will take tenacity, courage, creativity, and maybe even a good dose of humility to stay the course.
What is YOUR excuse for not running with endurance the race which God has set before you?
"Therefore, since we are surrounded by so great a cloud of witnesses, let us also lay aside every weight, and sin which clings so closely, and let us run with endurance the race that is set before us …" Heb 12:1 (ESV