Almost every dog does it! At the first hint of a potential belly rub, they immediately roll over, splay their legs, and wait for the incoming pats of perfection leading to belly blissfulness.
But what is REALLY happening here? Do all dogs universally love belly rubs? Is this purely about gratification? Or is something else going on here?
Dog behaviourist and trainer, Adem Fehmi, explains that, at its core, this posture is actually not so much an invitation to affection, but rather an act of submission.
"Us humans often see this as an invitation to stroke a dog's belly, as if the dog is 'asking' us by assuming this position." But actually, he explains, "The behaviour of rolling over and exposing their belly often starts from submission, as this stance is a submissive position in dog body language."
Now, that doesn't mean most dogs don't love a good belly rub. I mean, who doesn't?!
Yet, what starts as an act of submission results in the reception of affection, affirmation, comfort, and consolation. Thus, the response becomes both an act of submission AND a learned response and reflexive action in anticipation of the comfort, affection, pleasure to come.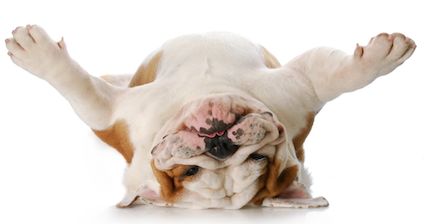 Dogs are man's best friends on so many levels. We can learn so much from them. We can even learn what our relationship with our Heavenly Father should look like.
God's desire is to reach down and touch us, to love on us, to affirm us, to comfort and console us. But before we can rightly receive any of those blessings, we must first posture ourselves into a position of submission.
"Or do you not know that your body is a temple of the Holy Spirit within you, whom you have from God? You are not your own, for you were bought with a price. So glorify God in your body" (1 Corinthians 6:19-20, ESV).
"But he gives us more grace. That is why Scripture says: 'God opposes the proud but shows favor to the humble'" (James 4:6, NIV).
"In the same way, you who are younger, submit yourselves to your elders. All of you, clothe yourselves with humility toward one another, because, 'God opposes the proud but shows favor to the humble.' Humble yourselves, therefore, under God's mighty hand, that he may lift you up in due time. Cast all your anxiety on him because he cares for you" (1 Peter 5:5-6, NIV).
"Do you not know that if you present yourselves to anyone as obedient slaves, you are slaves of the one whom you obey, either of sin, which leads to death, or of obedience, which leads to righteousness? But thanks be to God, that you who were once slaves of sin have become obedient from the heart to the standard of teaching to which you were committed, and, having been set free from sin, have become slaves of righteousness. I am speaking in human terms, because of your natural limitations. For just as you once presented your members as slaves to impurity and to lawlessness leading to more lawlessness, so now present your members as slaves to righteousness leading to sanctification" (Romans 6:16-19, ESV).