Marcel Marceau, the famed French entertainer of the early 20th century, was best known for his pantomime, bringing his silent character, Bip the Clown, to stages around the world for over 6 decades. He referred to his miming as "the art of silence."
Few, however, know him for his heroism during the Nazi occupation of France.
Recruited to help the French Resistance by his cousin, Georges Loinger, he became part of the ultra-secret unit called the Oeuvre de Secours aux Enfants (Children's Relief Work), a Jewish relief group that smuggled Jewish children from occupied France to neutral countries. Their mission was to evacuate Jewish children who had been hiding in a French orphanage and get them to the Swiss border.
"But traveling with large groups of children was anything but easy. Marceau had a secret weapon: His training as a mime," reports History.lcom.

"The kids loved Marcel and felt safe with him," his cousin, Loinger reminesced to the Jewish Telegraph Agency. "He had already begun doing performances in the orphanage … The kids had to appear like they were simply going on vacation to a home near the Swiss border, and Marcel really put them at ease." …

"He mimed "to keep children quiet as they were escaping," remembered another.
At times, he posed as a Boy Scout leader taking groups of boys on nature outings (which just happened to find them hiking near the Swiss border!). On one occasion, he was confronted by German troops, at which time he tapped into his acting talents, pretended to be a French Army commander, and demanded that the German troops surrender to him immediately. And they did! All 30 of them!
In all, Marceau rescued over 70 children, while his cousin Loinger rescued more than 350.
He could not, however, save his own father, who was executed while imprisoned at Auschwitz.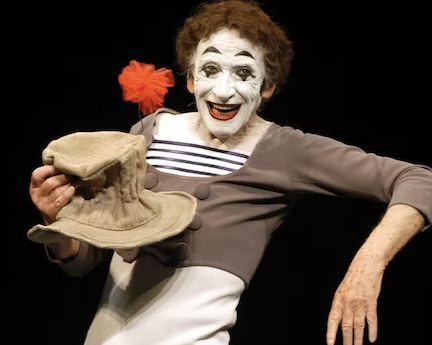 Marcel's heroic actions bring to mind the famed quote oft attributed to St. Francis of Assisi, "Preach the Gospel at all times, and if necessary, use words."
While it might be possible to lead a band of children to a safer border without words, words are essential in order to bring the saving message of the Cross to the world.
"How, then, can they call on the one they have not believed in? And how can they believe in the one of whom they have not heard? And how can they hear without someone preaching to them?" (Romans 10:4, NIV).
"Preach the word; be prepared in season and out of season; correct, rebuke and encourage—with great patience and careful instruction" (2 Timothy 4:2, NIV).