Sometimes life is just so random. Take for example the "accidental" good fortune ($10 million worth!) of LaQuedra Edwards of SoCal, whose random collision with a stranger resulted in the haul of a lifetime.
As UPI reports:
Edwards had just put $40 into a lottery ticket vending machine at a supermarket in Los Angeles when "some rude person" bumped into her, causing her to accidentally push the wrong number on the machine.
"He just bumped into me, didn't say a thing and just walked out the door," Edwards said.
Edwards was quire resentful at first, because she had just put nearly all her cash into the machine, and was now committed to a lotto ticket that was not of her choosing.
She usually purchases cheaper tickets, but the accidental button push meant she'd bought a $30 200X Scratchers ticket.

Her annoyance and frustration was quickly turned to exuberant disbelief as she began scratching the ticket, only to find that she just won the $10 million jackpot!
Edwards said. "I pulled over, looked at it again and again, scanned it with my (California Lottery mobile) app, and I just kept thinking this can't be right."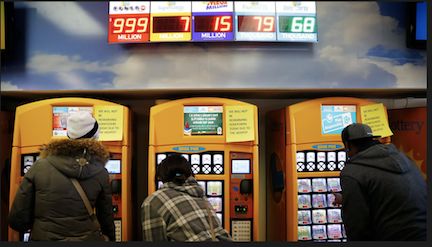 The fact that such a thing could happen to one means that it could just as easily happen to anyone. God's love is indiscriminate and the random nature of life is meant to drive that point home.
Today it may rain on my field but tomorrow it may rain on yours. Either way, the message is the same. God loves us all indiscriminately.
"He causes his sun to rise on the evil and the good, and sends rain on the righteous and the unrighteous" (Mattew 5:45b, NIV).