If dessert makes you feel bad afterwards, someone did something wrong - and it wasn't you. That is to say, rich desserts do not have to be heavy.
According to Chef Jeremy of MissoulaCakes.com, we can have all the yums without the gut bomb often associated with desserts. He says the trick is two-fold: layers and contrast. He claims that the full yum experience means having multiple layers with different textures.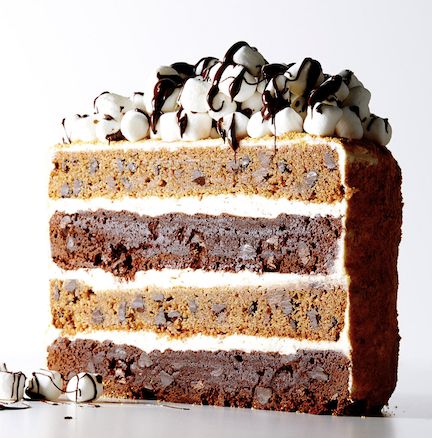 As an example, he uses the scene from Willy Wonka where Violet is chewing the magical gum which transforms from turkey to stuffing and all the sides, then blueberry pie.
When a layered cake is done right, we can experience all of the richnes of the contrasting flavor distinctions, without the need for more fat and sugar.
Scripture is like a well crafted cake, rich and full of layers and textures — everything from biblical history, the Law, and prophecy, to poetry and proverbs, filled beginning to end with moral and eccelsiastical instruction, all layered with measures of personal, communal, and even global admonition and instruction.
Some might find that all a bit "heavy" to consume. Yet the Word of God is crafted so perfectly that it fills our lives with richness, with fullness, without any of the bloat. It is meant to be savored, consumed, and digested.
To that end, Paul admonishes us to embrace the whole of scripture, with all it's richness and many textures, so that it might have its fullest impact on our lives. We can experience all of its intended nourishment without feeling heavy. And like a delectible dessert shared among friends after a lavish meal, we can delight in it with grattitude and praise.
"Let the message about Christ, in all its richness, fill your lives. Teach and counsel each other with all the wisdom he gives. Sing psalms and hymns and spiritual songs to God with thankful hearts" (Colossians 3:16, NLT).
"Oh, taste and see that the LORD is good! Blessed is the man who takes refuge in him!" (Psalm 34:8, NIV).