Coming from California we of course had some unique weather issues. Something that we had in the Central Valley of California was what we called Pea Soup Fog. Growing up on a rice farm, our winters would arrive like clock work with a thick blanket of fog. Sometimes we would have a week of all night and all day fog that would never break or lift.
Living out in the countryside I remember nights where people would show up at our door asking where they were because they would get so lost they wouldn't know what road they were on.
Peas Soup Fog is not just disorienting, it can be utterly dangerous and unhealthy:
[It] is a very thick and often yellowish, greenish or blackish fog caused by air pollution that contains soot particulates and the poisonous gas sulphur dioxide. This very thick smog occurs in cities and is derived from the smoke given off by the burning of soft coal for home heating and in industrial processes. Smog of this intensity is often lethal to vulnerable people such as the elderly, the very young (infants) and those with respiratory problems.
And beyond being unhealthy, it can downright blinding.
When learning to drive it was imperative that I learn to roll my windows down at a stop sign to listen for cars since you couldn't see them. I almost ran into a cow once because it had gotten loose and was walking on the road in the fog.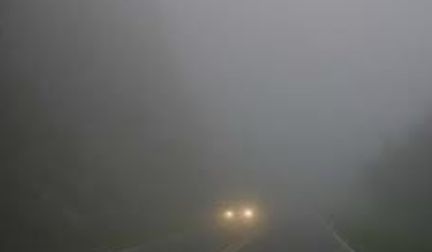 Growing up I remember the fog was dangerous and I was scared of it.
Flash forward 20 years. The foggy days weren't as prevalent as when I was younger in the Valley, but we would still have a few weeks a year where we would get a stretch of fog. I would wake up early to go on my neighborhood walks and remember how the lack of being able to see heightened my sense of hearing. I felt like I could hear everything within a mile range.
I remember one recent foggy morning heading out for my morning walk after we had sold our home. At that time we had no answers of what to do next, what was coming next. As I pondered the uncertainties, I stood there in the street and looked down it into the fog. I literally could not see two steps ahead of me.
For the first time ever I remember not feeling scared or wary, but I felt trust. I prayed, "Lord guide each step, help me to trust even when I don't see the next step. When I'm scared, help me to just take that next step. Let me hear your voice to guide me."
He was so faithful to give peace, faith, and trust in the middle of that foggy season of life. Whether the vision isn't perfect and you have a lot of questions, or when you can see clearly, but still have a lot of questions, roll down the windows, so to speak, and listen for His voice. Allow His wisdom, His counsel, His comfort to guide you through the fog.
Walk in faith as you step into the unknown.
"Trust in the LORD with all your heart and lean not on your own understanding; in all your ways submit to him, and he will make your paths straight" (Proverbs 3:5-6).
"And we know that for those who love God all things work together for good, for those who are called according to his purpose" (Romans 8:28, ESV).
"My sheep listen to my voice; I know them, and they follow me" (John 10:27, NIV).