Twenty-three year old Jaiden Ashlea gave birth to her son, Levi James, last week, only to have him tucked safely back into her womb to be born again in approximately eleven weeks.
You see, it was discovered through an in utero exam that Levi suffered from a life threatening, congenital condition known as spina bifida — a rare condition in which the spine is fatally malformed. So doctors removed tiny Levi from his mama's womb to perform life saving and life altering surgery to reconstruct his spine. But Levi needs the safety and protection of the womb to continue healing from his operation and to continue growing to full term, so doctors deposited him back inside his mama's uterus and stitched her up pending his full term delivery once he reaches at least 37 weeks gestation.
Each year, out of roughly 1500 babies diagnosed with spina bifida, only a handful of mothers and babies around the world are deemed approved for this kind of surgery.
The NY Post reports, "Ashlea originally shared her story in a viral TikTok video captioned: "Birthing my baby for him to be put back in and 11 weeks later be born again," which now boasts over 2 million views.
"I'm excited for him to realize how many people were rooting for him, and how loved and special he is," said Ashlea. "Not everyone gets the chance to have this surgery. And I want him to know that God was on his side."
Little Levi is already showing signs of improved brain activity. And though he'll need physical therapy once born, he's expected to live a healthy, normal life.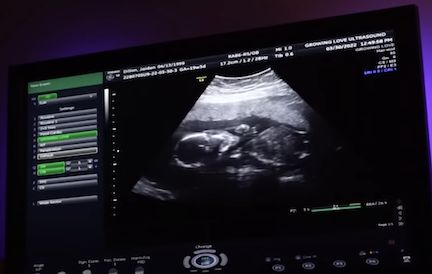 As Jesus sat explaining salvation to Nicodemus, the Lord said to him, "Truly, truly, I tell you, no one can see the kingdom of God unless he is born again."
The Pharisee paused to ponder his comments, and incredulously questioned, "How can someone be born when they are old? Surely they cannot enter a second time into their mother's womb to be born [again]!"
Jesus answered, "Very truly I tell you, no one can enter the kingdom of God unless they are born of water and the Spirit. Flesh gives birth to flesh, but the Spirit gives birth to spirit" (John 3:3-6, NIV).
It turns out that someone CAN go back into their mother's womb to be born a second time. But as radical and lifesaving as this surgery might be, one still needs to be born AGAIN if they are ever to truly live, not just via the waters of the womb, but by the power and regeneration of the Holy Spirit!
No surgery, no matter how rare or how skilled can impart eternal life. Only God can do that; only God can fix what really ails us.
Yet thankfully, this life-giving regeneration of our souls isn't only offered to a select few deemed approved to receive it. It is offered to all for the asking.
As for little Levi, God is indeed on his side! And He's on YOUR side, as well.
Won't you ask God to heal your heart and make you born again?