We've all heard the age-old advice to drink eight cups of water a day. But if you fall short of drinking your 64 ounces, don't worry. New information published in the journal Science suggests that advice is wrong anyway.
The results of this new research says that for most healthy adults, drinking eight cups of water a day is completely unnecessary. The advice is misguided in part because it doesn't take into account all the water we get from our food as well as other beverages like coffee and tea. The research found that our water needs vary from one person to the next depending on factors like age, gender, size, physical activity, and the climate we live in.
The advice to drink eight cups of water a day stems from a 1945 recommendation from the Food and Nutrition Board of the National Research Council, which encouraged adults to consume about 64 ounces of water daily.
The advice is so widely ingrained that many companies use it to market products. We can buy 64-ounce water bottles designed to motivate us to drink the equivalent of eight cups of water daily. There are even water-bottle sensors that will track our water intake and remind us to "hydrate" every 30 to 40 minutes.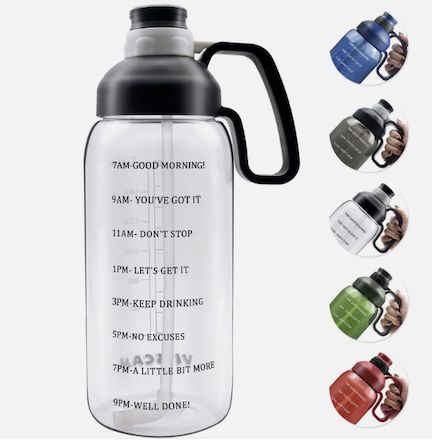 "So how much water should you drink?" asks Washington Post journalist Anahad O'Connor. "The answer is simple according to this research: Drink when you're thirsty. Prioritize water. Try to avoid sugary drinks. Coffee and tea are fine. Keep in mind that we get water from our food as well. Some water-rich foods are fruits, vegetables, beans, yogurt, brown rice, and soups."
This research helps us learn how much H2O we really need. But what about our need for Living Water, as Jesus describes Himself. How much of that water do we really need?
We both drink of Him, once unto salvation, and we drink of Him daily, moment by moment, unto our sustanence and sanctification.
Prioritize the Living Water! Come to Him. Drink Him in, and you will never thirst again! What other motivation do we need to drink a steady stream from this well?
As Jesus said to the woman at the well,"Everyone who drinks of this water will be thirsty again, but whoever drinks of the water that I will give him will never be thirsty again. The water that I will give him will become in him a spring of water welling up to eternal life." The woman said to him, "Sir, give me this water, so that I will not be thirsty or have to come here to draw water" (John 4:13-15, ESV).