If you have ever had a bacterial infection, you've probably been prescribed antibiotics to treat it. Antibiotics are medicines that treat bacterial infections by either killing the bacteria or making it more difficult for them to grow and multiply. Illnesses that can be treated by antibiotics include respiratory tract infections such as whooping cough and pneumonia, as well as skin infections.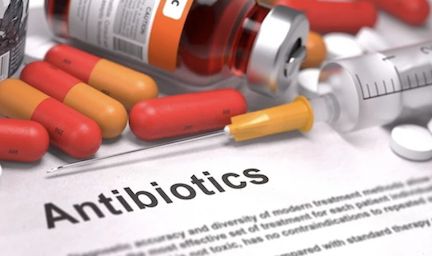 You'll also remember your doctor telling you that it's important to take ALL of the antibiotics, even after our symptoms have gone away. They tell us to do this because taking them regularly until the prescription is complete helps ensure that all of the illness-causing bacteria are killed or prevented from multiplying. Even if our symptoms go away, the bacteria may still be present in our body. If we stop treatment before the antibiotic treatment is over, the remaining bacteria can continue to multiply. If these bacteria become resistant to the antibiotics, they can potentially do even more harm. It may take us longer to recover from our illness and our physician may have to prescribe more medication.
While our salvation is the ultimate cure for our sin nature, it is our sanctification — our daily walk in Christ — that brings us ongoing spiritual health.
"But now he has reconciled you by Christ's physical body through death to present you holy in his sight, without blemish and free from accusation — if you continue in your faith, established and firm, and do not move from the hope held out in the gospel. This is the gospel that you heard and that has been proclaimed to every creature under heaven, and of which I, Paul, have become a servant" (Colossians 1:22-23, NIV).
"Put to death therefore what is earthly in you: sexual immorality, impurity, passion, evil desire, and covetousness, which is idolatry" (Colossians 3:5, ESV).
"His divine power has granted to us all things that pertain to life and godliness, through the knowledge of him who called us to his own glory and excellence, by which he has granted to us his precious and very great promises, so that through them you may become partakers of the divine nature, having escaped from the corruption that is in the world because of sinful desire. For this very reason, make every effort to supplement your faith with virtue, and virtue with knowledge, and knowledge with self-control, and self-control with steadfastness, and steadfastness with godliness, and godliness with brotherly affection, and brotherly affection with love. For if these qualities are yours and are increasing, they keep you from being ineffective or unfruitful in the knowledge of our Lord Jesus Christ. For whoever lacks these qualities is so nearsighted that he is blind, having forgotten that he was cleansed from his former sins. Therefore, brothers, be all the more diligent to confirm your calling and election, for if you practice these qualities you will never fall. For in this way there will be richly provided for you an entrance into the eternal kingdom of our Lord and Savior Jesus Christ" (1 Peter 1:3-11, NIV).