​When Super Bowl LV kicked off between the Tampa Bay Buccaneers and the Kansas City Chiefs, Raymond James Stadium in Tampa, Florida looked full with the help of some fake fans.
Due to the ongoing pandemic, the NFL had approximately 25,000 in the stadium for the 55th Super Bowl, far fewer than the 70,000 fans that attended the big game the last time it was held in Tampa.
To make up the difference, the NFL produced 30,000 cardboard cutouts of fans to fill most of the remaining seats.
Unlike other sporting events where the cardboard cutouts are all bunch together in some areas of the stadium, the fake Super Bowl fans were spread out to keep the real fans socially distant.
The NFL charged each fan $100 to have their face placed on one of the cardboard cutouts. That's a cool $3 million in revenue to make up for some of the lost ticket and concession sales.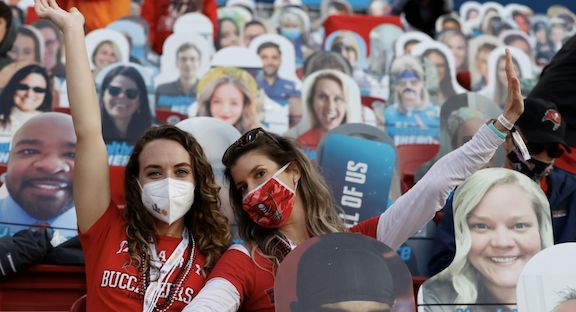 When I look at the faces on those cutouts all I can think of are the many who fill the pews every Sunday, pretending to be something they're not. They appear to be there but they're really somewhere else. They're there to fulfill an obligation but not to worship. They seem to have it all together but it's all an illusion. They want to be seen but not known. They have all of the zeal and passion of a cardboard cutout. They pretend to be alive but they're dead. They've made it a practice to be religious but what they really need is to be born again.
Jesus replied, "I tell you the truth, unless you are born again, you cannot see the Kingdom of God" (John 3:3, NLT).
•Application by I.E.