Paul tells us that when we become Christians we become "a new creation" (2 Corinthians 5:17), that we "put off the old self with its practices … and have put on the new self, which is being renewed" (Colossians 3:9-10, ESV). Like a butterfly that rises from its cocoon, we emerge as renewed creatures.
Before, we trusted in good works for salvation, now we trust in the finished work of Christ. Before, we lived in fear and shame, now we live in light of God's perfect love and forgiveness. Before, we resolved to do better by conjuring up the mustard to overcome bad habits and sinful behaviors, now we resolve to do better by conjuring up the mustard to overcome bad habits and sinful behaviors.
Wait a minute!! That last one didn't sound any different than what we were doing before our salvation. How is it that grace has transformed everything about us except the process of transformation itself? Could it be that we are failing to turn to grace at this strategic point and are relying on old habits instead? Seriously, how is the approach most of us take to overcoming bad behavior any different from how we exercised self-control before we came to faith in Christ?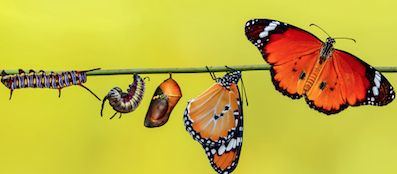 It is important to take note that in all of the ways that grace has affected a change in our lives there has always been a transition from relying on human effort to relying on divine provision. With that all-important point in mind, we fool ourselves if we think that we have transitioned to grace in our efforts to overcome sin if we are, in fact, still relying on human effort.
This was Paul's point when he asked the legalistic Galatians, "After beginning by means of the Spirit, are you now trying to finish by means of the flesh?" (Galatians 3:3). They began their Christian experience by relying on God's provision for salvation but they attempted to go on to maturity not by grace but by continuing to rely on human effort. Sound familiar?
The real solution to chronic issues of disobedience isn't more effort but more love. To turn to human effort to solve a problem that was created by human effort is nonsensical, as Paul pointed out. What we need, instead, is to love God more than the things that tempt us away from Him.
Here's the central point: We Obey What We Love.
We yield to temptation because we love the things that tempt us. We overcome temptation by loving God more than anything else. But search as we may, this love won't be found in our flesh. To find it, we must turn from ourselves and ask God to fill us with more of His love.
So, when you find yourself failing to be obedient to God over something, don't resolve to do better or try harder next time. Instead, ask God to give you a love for pleasing Him that's greater than your love for that sin. When it's more love for God that provides the victory, then you can rest assured that you have not only begun your Christian journey in the Spirit but that you are learning to finish it in the Spirit, as well.