When I was a small boy growing up in Mississippi, my Granny was often a source of wisdom, unconditional love, good cooking, and entertainment. I'll never forget a lesson she taught me by accident about honesty. We had stopped at a convenience store after church, where she intended to get a Sunday paper from the machine out front. She gave me a quarter and told me to run get two papers, one for her and one for my mother.
I got to the machine and saw that a Sunday paper was 25 cents, and I shouted to her as she sat in the car that I would need another quarter. Granny said, "No, baby, just put the quarter in the slot, open the door, and get two papers out of the machine." I must have looked puzzled because she repeated herself a little louder.
About that time a customer walked out of the store, so when I proceeded to explain that I couldn't get two papers out of the machine without putting in two quarters, she shushed me, got out of the car, and said, "Just get in the car." I climbed into the car and watched as she put the quarter into the slot, opened the door, and retrieved two newspapers.
As the metal door slammed shut and she began to walk away, she was suddenly stopped short by the strap of her big, black purse hanging on her arm. She had accidentally caught the purse in the paper machine. With the door closed, she was stuck.
After a frustrating moment of indecision, Granny fished around, produced a second quarter, and freed herself from captivity. It was all I could do to keep from laughing, but something told me to keep that lesson to myself.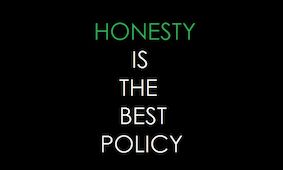 The Bible teaches us that stealing is always wrong and that it is what we do in our private moments that define our character and prove our witness to those around us. Doing the right thing is not one option among others for the Christian, it is a mandate.
Even when the compromise seems small, even when it appears no one is looking or is likely to be harmed, our theft, our lie, our disregard for what is right has consequences.
"Whoever is simple, let him turn in here! And to him who lacks sense she says, 'Stolen water is sweet, and bread eaten in secret is pleasant.' But he does not know that the dead are there, that her guests are in the depths of Sheol" (Proverbs 9:16-18, ESV).