Curt Paul Richter was a Harvard and Johns Hopkins educated biologist, psychobiologist and geneticist, who served for many years as director of Johns Hopkins' psychiatric clinic, where he served until becoming professor of psychobiology in 1957.
He made many important contributions to the fields of biology and psychobiology. One of his most famous experiments involved drowning rats – a study which, today, would probably land him in jail for animal cruelty.
He knew that rats had a reputation for being able to swim for exceedingly long periods of time (in excess of 50 hours!). Yet when he placed rats in a tightly confined bucket of water, they quickly discovered they had no means of outlet, no means of relief, and literally gave up, allowing themselves to simply sink to the bottom, and drowning, on average, within about 15 minutes.
He knew they had the "physical" ability to continue swimming much longer, so concluded they must have felt both helpless and hopeless. So he tried again, this time pulling the rats from the water once he saw them beginning to struggle. He let them rest for a short time before returning them to the bucket. They once again began swimming, testing the confines of their surroundings, but instead of giving up and allowing themselves to sink and drown, they kept swimming! And swimming! And swimming! Many swam up to 60 hours until their bodies could simply no longer endure.
What was the difference between these two groups of rats? Richter concluded the difference was HOPE -- that "feeling of expectation" that a particular outcome or desire will come to pass (Google Dictionary), "to look forward to [something] with desire and reasonable confidence" (Dictionary.com).
These drowning rats had been saved once, so they were instilled with the hope – the expectation, the reasonable confidence -- of eventual rescue yet again. Sadly, their hope was misplaced. Their motivation to battle the fatigue, battle the seemingly impossible circumstances, and just keep swimming still landed them in the bottom of the bucket.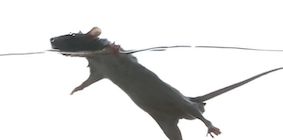 Hope is an amazing motivator. And when it is well placed, it is a lifeline.
To the Christian, who has placed their hope squarely in the promises of God, our "feeling of expectation" is much more than a feeling. It is an assured confidence "in hope of eternal life, which God, who never lies, promised before the ages began" (Titus 1:2). It is that knowledge and confidence in Christ's finished work on our behalf that will ultimately result in our salvation and eternal life,
"So we do not lose heart. Though our outer self is wasting away, our inner self is being renewed day by day. For this light momentary affliction is preparing for us an eternal weight of glory beyond all comparison, as we look not to the things that are seen but to the things that are unseen. For the things that are seen are transient, but the things that are unseen are eternal … so that what is mortal may be swallowed up by life. Now the one who has fashioned us for this very purpose is God, who has given us the Spirit as a deposit, guaranteeing what is to come" (2 Cor 4:16–5:5).
Life gets hard folks. You may feel hemmed in on every side, with no visible means of relief or escape. Your body, not to mention your mind and spirit, may want to just give up. But, in the immortal words of Disney's Dory, "Just keep swimming!"
Allow the assured promises of God to keep you motivated. Death will be swallowed up in life. He has given you His Spirit as a guarantee of the salvation and glorification which is to come!