Most of us are familiar with a bell tower. In order to ring the bell, a rope has to be pulled. For the bell to stop ringing, we must let go of the rope.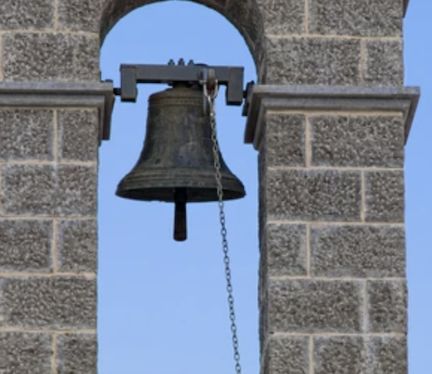 Corrie ten Boon, best known for hiding Jews during the Holocaust, was later captured and sentenced to hard labor in various concentration camps. She alone, from her family, survied to tell her story. Time and again she was confronted with her need to forgive those who had so brutually tortured her and her family.
Years later, after hearing a sermon on forgiveness, she often used the imagery of a bell in the tower to recount her own struggle with "letting go."
"'Up in that church tower,' [the pastor] said, nodding out the window, 'is a bell which is rung by pulling on a rope. But you know what? After the sexton lets go of the rope, the bell keeps on swinging. First ding then dong. Slower and slower until there's a final dong and it stops.'

"I believe the same thing is true of forgiveness. When we forgive someone, we take our hand off the rope. But if we've been tugging at our grievances for a long time, we mustn't be surprised if the old angry thoughts keep coming for a while. They're just the ding-dongs of the old bell slowing down." — Corrie Ten Boom, Guideposts Classics, November 1972)
When we choose to forgive, it means we're finally willing to let go of the rope. The ringing may continue, but over the course of time, it will eventually stop, as long as we make the choice to not pick up the rope again.
That said, what area(s) in your life are bringing you to the verge of exhaustion from continuing to ring the bell?
In what situations is God asking you to put down the rope? When are you tempted to pick up the rope again?
As you face your own battle with forgiveness, ask the Lord, as the Apostles did, to increase your faith!
"So watch yourselves. "If your brother or sister sins against you, rebuke them; and if they repent, forgive them. Even if they sin against you seven times in a day and seven times come back to you saying 'I repent,' you must forgive them. The apostles said to the Lord, 'Increase our faith!'" (Luke 17:3-4, NIV).
"Bear with each other and forgive one another if any of you has a grievance against someone. Forgive as the Lord forgave you" (Colossians 3:13, NIV).