The OSCARS are a failing and fading symbol of Hollywood's death grip on American culture. Ratings have been steadily falling for years, in large part because of the way they love to lecture and berate the rest of us for our supposedly antiquated, unsophisticated morals and world view, all the while hypocritically value signalling and flaunting their own. Viewership has dropped over 80% over the last 20 yrs.
But the 94th Annual Motion Picture Academy of Arts and Sciences hit a new low, catching the public's interest for an on-air physical assault, as presenter Chris Rock took the stage and made a joke about actress Jada Pinkett Smith's shaved head. "Jada, I love ya. G.I. Jane 2, can't wait to see it."
Ms. Smith suffers from hair loss due to a physical condition, Alopecia, and she took great offense. Her husband, famed actor Will Smith, initially laughed at the joke, but then quickly recoiled, ran to the stage, and unceremoniously cold-slapped Chris Rock across the face.
"Will Smith just smacked the [profanity] out of me," said a stunned Chris Rock.

"Keep my wife's name out of your [profanity] mouth!" said an indignant Will Smith, twice.
Rock, in an effort to diffuse the situation, said the assault made for "the greatest night in the history of television."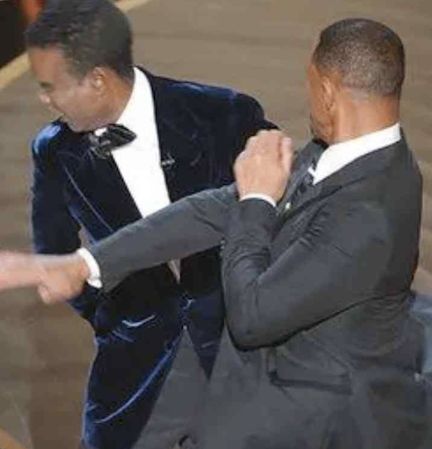 "Hollywood has never been comfortable with traditional morals and values, so it is rather amusing seeing the industry struggling to figure out how to respond," says Not The Bee's Daniel Payne.
Payne continued:
Is Will Smith an heroic husband defending his wife's honor before a global audience? Is he a patriarchal caveman helping perpetuate toxic masculinity by using his fists to solve problems? You can see the tension there. Yet beyond the hopelessly convoluted politics of the moment is a deeper and more troubling dichotomy at play here: Will Smith's aggressive defense of his wife on the Oscars stage occurs alongside his complete and utter spousal neglect of her off the stage.
Will and Jada Pinkett Smith share a long history of marital dysfunction, engaging now, for years, in what they call an "open" marriage, i.e., they mutally agree to both date and have sexual relations with other people outside of their marriage.
"There are few more potent and enduring symbols of emasculated weakness and of bad husbandship," says Payne, "than a man standing by while other guys [take advantage of his wife] and make a mockery of their wedding vows."
We should note that Will Smith presumably [has affairs] with women in his own right, but of course that simply degrades his own personal integrity even further—if you can't defend your wife and your marriage from the impulses and the ego of your own sexual appetites, you're not much of a man or a husband, whatever else you may be.
Payne concludes:
These are, of course, the fruits of the sexual revolution: Disorder and chaos, disgust and decay. This has been known for decades. When you move away from the square-and-sober arrangement of real, actual marriage in favor of sexual licentiousness and mayhem and gluttony, it's never a good show.

And so at the Oscars this year we saw in Will Smith the curious, poisonous melding of the old order and the new, a mix of savage braggadocio and pathetic effeteness: a man striking another man for joking about his wife on stage while he allows numerous other men to make a far more sickening joke of his wife every other day of the year.

Will Smith feeling the need to violently defend his wife's dignity is, in a certain context, an admirable trait: Every man should be prepared to do so for his own wife, under the right circumstances. That he did so while also tolerating the obscenity of an "open marriage" exposes the incident for the meaningless, useless gesture it was.

Chris Rock may have been right when he called the assault "the greatest night in the history of television," if only because it revealed for us just how low our civilization has sunk, and how much lower we'll doubtlessly continue to go.
"Can a man carry fire next to his chest and his clothes not be burned? Or can one walk on hot coals and his feet not be scorched? So is he who goes in to his neighbor's wife; none who touches her will go unpunished" (Proverbs 6:27-29, ESV).
"Marriage should be honored by all, and the marriage bed kept pure, for God will judge the adulterer and all the sexually immoral" (Hebrews 13:4, NIV).