"I had no idea what was coming at me," said California ophthalmologist Katerina Kurteeva as she painstakingly removed one contact lens after another from the eyes of an elderly patient. All in all, Dr. Kurteeva removed 23 layers of lenses.
It seems the elderly woman either didn't know or had forgotten that she must remove previous contact lenses before placing new ones. The ensuing blurred vision caused her to keep inserting more lenses in the hopes of correcting the problem. Her vision blurred more and more until she finally sought medical help.
Fortunately, the lenses were removed before permanent damage was done.
Amazingly, this wasn't even the worst case ever reported, with a UK doctor having removed a record 27 lenses from the eyes of another elderly patient back in 2017.
Follow this link to observe a video of the procedure.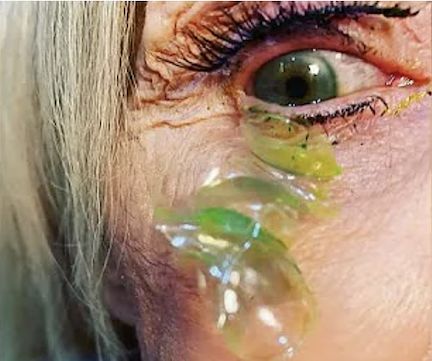 Like the blinding physical effects of these layers of lenses, the effects of spiritual blindness can build up slowly, creeping up on us as we focus on life through worldly lenses.
When we view the world without benefit of the light of the Word of God, we just keep adding layers of worldy perspective upon previous layers, until we either realize our perspective is skewed and seek help, or we simply, over time, become "blind" to our own blindness.
It may take someone else making us aware of our skewed vision, helping us to remove the layers of worldly perspective, and opening our eyes to the clarity of a scriptural worldview.
Don't give into delusion. Don't wait until you are utterly blind. Seek help. Look to the Word of God to bring clarity and light to the eyes of your soul.
"Open my eyes, that I may behold wondrous things out of your law" (Psalm 119:18, ESV)
"For you say, I am rich, I have prospered, and I need nothing, not realizing that you are wretched, pitiable, poor, blind, and naked" (Revelation 3:17, ESV).
"In their case the god of this world has blinded the minds of the unbelievers, to keep them from seeing the light of the gospel of the glory of Christ, who is the image of God" (2 Corinthians 4:4, ESV).
"For this very reason, make every effort to add to your faith goodness; and to goodness, knowledge; and to knowledge, self-control; and to self-control, perseverance; and to perseverance, godliness; and to godliness, mutual affection; and to mutual affection, love. For if you possess these qualities in increasing measure, they will keep you from being ineffective and unproductive in your knowledge of our Lord Jesus Christ. But whoever does not have them is nearsighted and blind, forgetting that they have been cleansed from their past sins" (2 Peter 1:5-9, NIV).