Studies have shown that if you blindfold a man and ask him to walk in a straight line, he will start out well but will soon begin to turn one way or another, looping around in ever tightening circles. It is a phenomenon that has been demonstrated over and over again: without a fixed reference point we cannot keep a straight line.
The strange thing is that it feels like we're walking in a straight line. But we begin to loop and curve erratically – without ever knowing it. We need a fixed point to walk a straight line.
Robert Kulwich, for NPR, observes, "Without a corrective, our insides take over and there's something inside us that won't stay straight."
[Studies of this phenomenon appear in Chris McManus' book, Right Hand, Left Hand, The Origins of Asymmetry in Brains, Bodies, Atoms and Cultures (Phoenix, 2002).]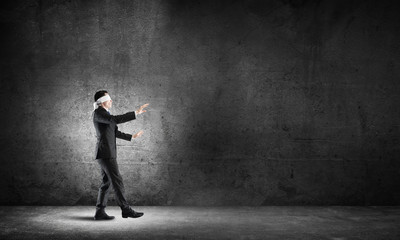 God's word is that fixed point for our souls. Its truths are fixed – "forever, O Lord, your word is firmly fixed in the heavens" (Ps. 119:89). Thus, it gives us a safe and accurate reference point for our lives.
A person who rejects God's word as the source of truth may feel like they're on the right road – they're going straight – but inevitably they go astray. The Bible says there is a way that seems right to a man (think they're going straight) but the end thereof is death (Proverbs 14:12).
Amazingly, Jesus didn't point people to the fixed point, he claimed to be the fixed point. Jesus didn't say "I know the truth" or "I can point you to the truth", he said, "I am the Way, the Truth, and the Life" (John 14:6)– He is the sun by which we navigate our lives, the star by which we guide our path. He is our fixed point.
"Let us fix our eyes on Jesus, the author and perfecter of our faith" (Hebrews 12:2, BSB).