Every person you know, given the right set of circumstances, will disappoint you. Many of them probably have already! Who hasn't been the victim of broken promises, or lying, or betrayal, or even abuse?
Don't take it too personally. People are fallen, self-centered creatures. Even by human standards, we are all dysfunctional, unable to love the way God intended. So, in order to maximize the benefits of your various relationships, you must learn to keep your dependency on others in proper perspective.
Remember the training wheels that helped you to learn how to ride your bike when you were a kid? You must come to see people as training wheels, preparing you for something bigger.
In these relationships you learned the importance of telling the truth and of keeping promises; you learned how to find comfort and receive assurance; you learned how to serve and to be served. You also learned to look to people for affirmation and inspiration. This dependency was necessary for your social development and maturity.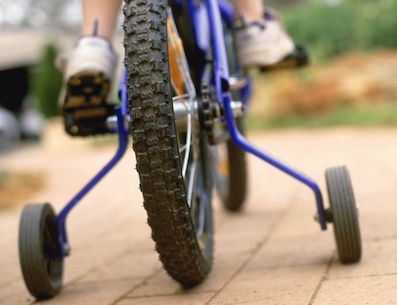 But at some point, as you became more skilled, the training wheels began to scrape and bump the road, slowing you down. They also prevented you from leaning into the turns and enjoying the full experience of the ride. Training wheels are great for learning how to ride, but eventually, they will begin to hold you back.
Your dependency on people works the same way. At some point, you will discover that dependency on people has made the journey more difficult. Rather than just propping you up, you begin to see that the people in your life do just as much to hold you back.
No one enters the Tour de France with training wheels. Neither can you break free so long as you are riding through life depending on people when you should be leaning entirely on God. For it is only when the wheels are finally removed, and the drag and restrictions are gone, that you will finally be able to ride freely.
The hope and trust we have been taught to place in people finds its rightful place in God. Unlike people, God loves us perfectly. The comfort He offers us isn't temporary or fickle, but eternal and sure. He will never lie to us, never betray us and never abuse us. He is our joy and our reason for living.
So, never forget, people are training wheels, God is the ride!
"This is what the Lord says: "Cursed is the one who trusts in man, who draws strength from mere flesh and whose heart turns away from the Lord ... "But blessed is the one who trusts in the Lord, whose confidence is in him" (Jeremiah 17:5,7).