March 23, 2022 (UPI) -- Auction house Sotheby's said it expects to fetch up to $551,000 for an unusual item -- a receipt for a piece of invisible art by French artist Yves Klein.

According to Stoheby's, "Klein sold numerous pieces of imaginary art, which he dubbed Zones of Immaterial Pictorial Sensibility, in exchange for a weight of pure gold, and he would issue receipts to the buyers."
Oddly enough, Klein (1928-1962) was considered a master of the artistic genre Nouveau Réalisme – New Realism. Yet there is simply nothing "real" about this.
The receipt in question was for a sale of a piece of imaginary art dated December 7, 1959. The receipt will go on auction April 6, 2022, and is expected to fetch the unimaginable price of over a half a million dollars.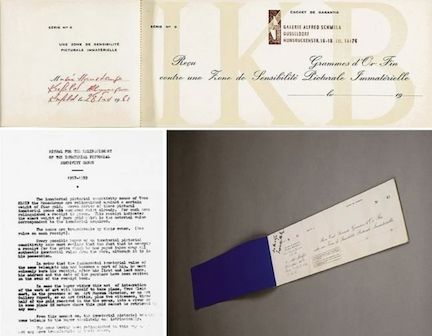 Not everything "real" is visible or tangible. Take your soul, for example. It's not visible or tangible. It can't be weighed or measured or photographed. But it is, in a true sense, the most real thing about you. And that soul has immeasurable value.
Your soul – YOU – were worth the cost of the life of the Son of God, that you might enter into eternal relationship with God. Yet we don't see the value, the worth in investing in that relationship.
While some would rather spend their resources on imaginary works of art, spend your time and energy exploring your own worth and destiny.
You were bought at a price! Own it!
"For you were bought at a price; therefore glorify God in your body and in your spirit, which are God's" (1 Corinthians 6:20, NKJV).
"For what does it profit a man to gain the whole world and forfeit his soul?" (Mark 8:36, ESV).