Pastor and author, Mark Batterson, shares a story of unbelievable odds and determination:
On January 19, 1844, a man named John C. Fremont attempted something that had never been done before: crossing the Sierra Nevada Mountains in the dead of winter. Irving Stone describes it as "the longest seventy miles in the history of exploration." Those who tried to cross the mountains suffered snow blindness, hypothermia and near starvation. In the end, three men, Kit Carson, Broken Hand Fitzpatrick, and John C. Fremont made it over those mountains, and when they did, the last barrier to westward expansion was breached. The mountains were no longer impassable or impossible. I love the phrase that Irving Stone used to describe these men and this moment. It became the title of his book. He said, "The men matched the mountains."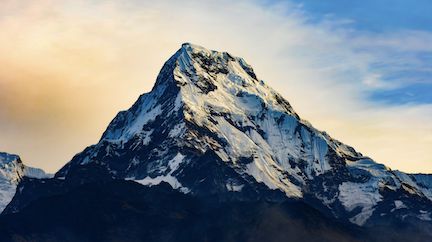 [Mark Batterson is an American pastor and author. Batterson serves as lead pastor of National Community Church in Washington, D.C.]
"Here's a thought," Batterson concludes, "the obstacle is not the enemy, the obstacle is the way!"
All of us face mountains, mountains of anxiety or addiction, mountains of depression or fear or shame. You can't let that mountain intimidate you. At some point, enough is enough. …

That mountain is going to make you a bigger person. You're going to have a testimony on the other side!
Indeed, the obstacle is not the enemy, The obstacle is the way!
The way to endurance! The way to spiritual growth and maturity! The way to completeness in Christ!
Be the man who matches the mountain. Conquer the obstacles to your own spiritual expansion. By the grace of God, the mountains you face are neither impassable nor impossible. They are the way!
"Consider it all joy, my brothers and sisters, when you encounter various trials, knowing that the testing of your faith produces endurance. And let endurance have its perfect result, so that you may be perfect [mature] and complete, lacking in nothing" (James 1:2-4).