In the wake of the mass shooting at the Robb Elementary School in Uvalde, TX, where 19 children and 2 teachers lost their lives, authorities still struggle to come to grips with what went wrong. Among the many questions, including those about issues with the police' delayed response, is the question of how the gunman gained such easy access to the school in the first place.
Details are slowly emerging. According to the Insider:
Security footage from Robb Elementary School in Texas shows that a back door was propped open by a teacher before Tuesday's deadly mass shooting, Texas law enforcement officials said.

At 11:27 a.m. on Tuesday morning, the door that police believe was used by the 18-year-old gunman to enter the school was propped open by a teacher, Director of Texas Department of Public Safety Steven McCraw said at a Friday press conference.

McCraw said the detail was confirmed through "video evidence."
According to reports, the teacher had left her cell phone in her car, and ran to get it, leaving the door propped open so that it wouldn't close behind her. No malicious intent. No purposeful wrong action. Just a simple lapse in judgment and vigilance.
Michelle Davidson, the interim Minister to Children and Families at Shiloh Terrace Baptist Church, TX, looked beyond the open door at the school building to the deeper, spiritual implications of the threats facing our children today. She shared her thoughts in a public Facebook post which has since garnered more than 50K shares and reactions. She observes:
The door where the shooter entered the school was propped open (not knowing what was about to happen). The shooter was given access to the kids and adults on that campus. The policemen were there but were waiting to go in.

As I have pondered and talked with God over these things the last few days, I felt so overwhelming in my spirit, "this is a physical picture of what is happening in the spiritual."

Today, we have left doors propped open by which the enemy has gained access to our children. Access to fill their minds with anxiety, fear, lies, hate, lust, pornography and pride. I think in some cases, we have even given him a key to come and go as he wishes. When we are not present and intentional in parenting, the enemy is more than happy to fill in the gaps through social media, screens, porn, drugs, evil, insecurity, depression and anxiety. Parenting is not for the lazy or faint of heart these days - it's difficult in different ways but ways that I believe come with a much greater cost.

We (I'm including me as well) have sat back and prayed asking God, when will things change? We have waited for more reinforcements (for someone else to help our kids), or thinking it's a phase, it will pass, meanwhile, the enemy is taking out our children one by one.

Satan has come to kill, steal and destroy. Period.

He is killing their God-given identity! He is stealing their beauty and purpose! He is destroying their childhood and joy! He is stealing their confidence and peace!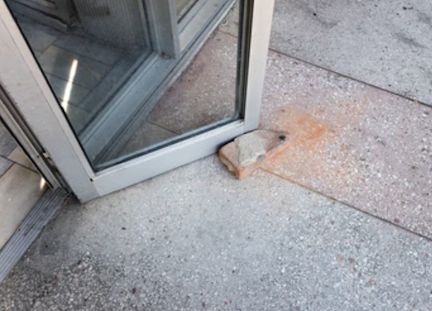 She continues:
We just can't sit idly by any longer. We have to rise up and stand for and with our kids. We have to put our own devices down and play with our kids. We need to look into their eyes and speak truth into their hearts. We need to shut and lock the freakin' doors where the enemy has gained access.

It's a spiritual battle folks! It's time we take back some ground that the enemy has stolen and that's only gonna happen when we, as adults, be adults for the kids in our lives.
"Train up a child in the way he should go; even when he is old he will not depart from it" (Proverbs 22:6, ESV).
"Only take care, and keep your soul diligently, lest you forget the things that your eyes have seen, and lest they depart from your heart all the days of your life. Make them known to your children and your children's children …. And these words that I command you today shall be on your heart. You shall teach them diligently to your children, and shall talk of them when you sit in your house, and when you walk by the way, and when you lie down, and when you rise. You shall bind them as a sign on your hand, and they shall be as frontlets between your eyes. You shall write them on the doorposts of your house and on your gates" (Deuteronomy 4:9, 6:6-9, ESV).