So you don't attend church today because you were forced to attend as a child? Such is the common complaint that I hear when the subject of church comes up with the unchurched. I understand. You were made to go. The only drug problem that your parents had was that they "drug" you to church. You didn't particularly enjoy it, except for the Easter candy, the Christmas program, or maybe catching the eye of that pretty girl.
But the long, boring sermons were punishing. The Sunday School teacher thought you had a rotten attitude, and publicly called you out. You didn't like wearing dressy clothes. And when the preacher talked, it seemed that he was looking right at you. You couldn't stand singing in children's choir and the list goes on.
So now, you refuse to attend. Furthermore, you resent the fact that your parents made you attend and have stalwartly determined NOT to require your children to attend church on the basis of allowing them to "make their own decisions."
I understand. After all, that the church has been viewed as being too religious, judgmental, packed with hypocrites, and besides all that, they seem to want your hard-earned money.
While it may be true that the church, in general, has needed an overhaul in some ways, I would like to challenge you to consider another angle.
My parents not only made me attend EVERY church service (minimum of 3 days a week plus revival services), including extra youth service and prayer meetings, but they also made me carry my Bible. I brought an offering to Sunday School that came out of my allowance and had to memorize Bible verses. If we misbehaved in a church service, it might be that we were called out from the pulpit, or a "(h)usher" would attend our side. Rain or shine, we were in church!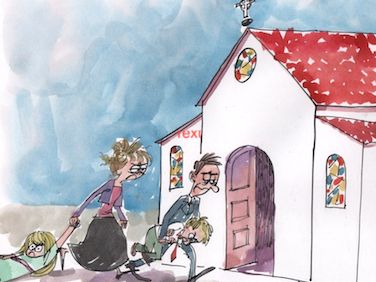 But please indulge me a bit longer. Perhaps my parents would have received a visit from DHS if it were known of the other cruelties that they imposed upon my young life. You see, they frequently "forced" me to do other things that I definitely would have chosen not to do if I had a choice. Let me give you the short list:
My cruel and inhumane parents "forced" me to do other things that I definitely would have chosen not to do if I had a choice:
"Forced" me to attend school. Not just 3 times a week, but every weekday.
They made me go to the Dentist, the Doctor, the family reunions, and the mall to by new shoes.
I had to visit the nursing home when they went and be fawned over by old ladies who smelled funny.
If I got in trouble at school, I usually got in worse trouble when I came home.
When I got home, there were certain things I was required to do call "chores."
They forced me to do the homework that came with school.
We were required to sit down as a family every evening for a meal in a room where there was no TV
There were the gross and disgusting things call vegetables that we were required to wash down before we could have any desert.
We were encouraged to go outside and play with the dog on nice days.
We were required to take baths, brush our teeth, and clean up after ourselves.
Before we left for school, we had to make our beds.
We were required to make peace when we had disagreements with our siblings. Like brush my teeth. Take a bath. Eat my vegetables. Be nice to my siblings. Share. Lift the lid. Close when finished. Tuck your shirt in. Get out of bed. Get a haircut. Get good grades. Get an attitude adjustment. Get a job. Wow! Come to think of it, I guess my parents were downright abusive! Right.
Thank you, mom and dad, for being so harsh. Your tough love made me the man I am today.