When a young boy became separated from his father on the streets of a busy Argentinian city last month, a concerned pedestrian promptly came to attend to him. He asked him his name and his father's name. He then hoisted the young man onto his shoulders and began crying out, "Eduardo, come and find Juan Cruz!"
It wasn't long before all the diners and pedestrians in the busy square began chanting aloud with him, "Eduardo, come and find Jaun Cruz!"
Soon, even a street band took up the call, quickly turning the chant into a song, and playing along with all the concerned citizens, singing together, "Eduardo, come and find Juan Cruz!"
Panic turned to comfort, encouragement, and support. It turned into a collective mission, as the entire community banded together to reunite young Juan Cruz with his father.
And it worked! Dad heard the commotion, followed the sound of the chants, zeroed in on the location, and ran to gather his son into his arms.
Click here to watch the full video.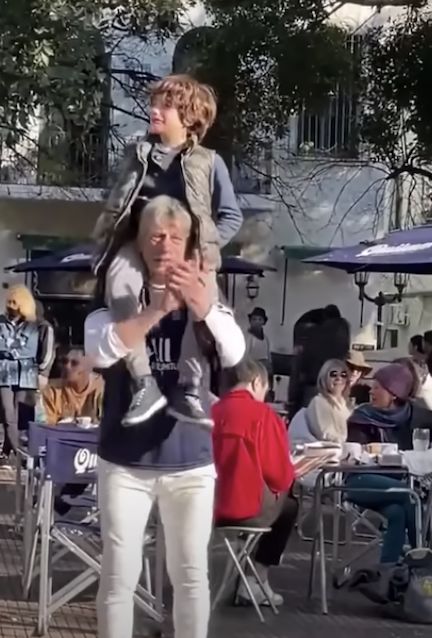 What is the Great Commission, what is our mission, if not to help lost souls to find their way back to their heavenly Father? To this end, the Christian Church must band together with the same passion, purpose, and collective mission as the diners and pedestrians who chanted, "Eduardo, come and find Jaun Cruz!"
What would happen if we united in solidarity with one another to pray for, and minister to, and witness to each other's lost family members, neighbors, friends, even strangers, hoisting them up on our shoulders, so to speak, to give them a view of the Father? Calling the Father to come and find them! Praying together, with each other and for each other, "Father, come and find my brother! Joe's neighbor! Sharon's employer!"
Lord, give us, your Church, as much passion for the lost as that crowd had for little Juan Cruz to be reunited with his father.
"For the Son of Man came to seek and to save the lost" Luke 19:10, ESV).
"What man of you, having a hundred sheep, if he has lost one of them, does not leave the ninety-nine in the open country, and go after the one that is lost, until he finds it? And when he has found it, he lays it on his shoulders, rejoicing. And when he comes home, he calls together his friends and his neighbors, saying to them, 'Rejoice with me, for I have found my sheep that was lost.' Just so, I tell you, there will be more joy in heaven over one sinner who repents than over ninety-nine righteous persons who need no repentance" (Luke 15:4 - 7, ESV).
"Then he said to his disciples, 'The harvest is plentiful, but the laborers are few; therefore pray earnestly to the Lord of the harvest to send out laborers into his harvest'" (Matthew 9:37, ESV).