Aoccdrnig to rscheearch at an Elingsh uinervtisy, it deosn't mttaer in waht oredr the ltteers in a wrod are, the olny iprmoetnt tihng is taht the frist and lsat ltteer is at the rghit pclae. The rset can be a toatl mses and you can sitll raed it wouthit a porbelm. Tihs is bcuseae we do not raed ervey lteter by istlef but the wrod as a wlohe.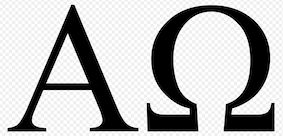 There's a lesson to be gleaned from this little exercise. We must learn to read life the way we read words on a page, resisting the temptation to focus too much on the individual events, choosing instead to take it all in as a whole.
Jesus claims to be the Alpha and the Omega, the Beginning and End. Among other things, this suggests that the beginning and the end of all things are exactly as they should be.
Unfortunately, it's in the middle where we live, and it's a jumbled mess! But God has not left us to wallow in the chaos and confusion. By making sure the beginning and the end of all things are what they should be, God restores meaning to what's in the middle.
When we read life as a whole, the chaos in the middle preserves its proper meaning.
"I am the Alpha and the Omega, the First and the Last, the Beginning and the End" (Revelation 22:13).
Illustration Exchange