What was he thinking?!
Jesse B. Shawin was wanted in Oregon where he was facing three separate arrest warrants, including charges of stealing a car. Police located and confronted him in Washington County as he was sitting in a construction excavator. But instead of disembarking from the heavy-duty vehicle, Shawin took off, putting pedal to the metal to outrun the officers.
Let's just say his efforts were futile. According to one online construction equipment source, "Most tracked excavators are limited to a top speed of four to six miles per hour, while some lumber along at a tortoise-like two or three."
The sight of Shawin's flight was nothing short of comical, as heavily armed police officers calmly walked behind the fleeing rig, content to pursue until he was ready to stop. (You can view it here.)
The ending was inevitable. Just a mile and a half later, Shawin finally stopped the vehicle and surrendered.
I can just imagine the officers' words to him as they pursued from behind. "Turn off the engine and climb on down, son. We can do this the easy way or the hard way. Your choice."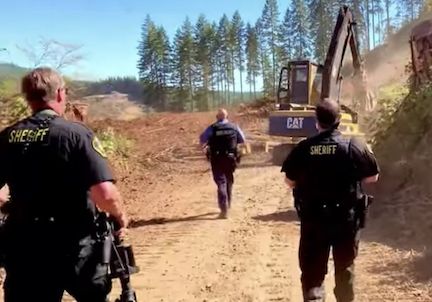 Running from God is a lot like running from the cops in an excavator. You can't possibly outpace Him. And even if you could, where would you hide?
Yet, committed to our own willful ways, this is what we so often do. We attempt to run from Him, run from our accountability to Him, run from His control, or even His correction.
In the end, we would be much better off if we simply surrendered to His will, forgiveness, love, and grace. So why not just climb off that rig and surrender to Him? Run toward Him, rather than away from Him.
His righteous, yet gracious, heart is calling out to you: "We can do this the easy way or the hard way."
"I will run in the way of your commandments when you enlarge my heart! (Psalm 119:32, ESV)
"You hem me in behind and before, and you lay your hand upon me. … Where can I go from your Spirit? Where can I flee from your presence?" (Psalm 139:5-7, NIV).
"What do you think? If a man owns a hundred sheep, and one of them wanders away, will he not leave the ninety-nine on the hills and go to look for the one that wandered off? (Matthew 18:12, NIV).