Back in 1997 a Brinks armored truck was involved in a crash. It ended up dumping hundreds of thousands of dollars onto a street in Miami, Florida. Witnesses and spectators rushed to the scene — not to help, but to steal! Onlookers, grabbing fists of cash from the street, sidewalk, and gutters, ran from the area, never to be seen again. Others simply found cash and coin after the fact, not knowing when or how the money was deposited there. Police, in desperation, put out an offer of amnesty for any who would return their take of the dumped payload.
Only two people steppef forward:
MIAMI (CNN) -- A mother of six and a school boy are the only ones to have returned money they found in the street after an armored truck overturned in a Miami neighborhood Wednesday.

Only Faye McFadden, who returned $19.53, and 11-year-old Herbert Tarvin, who gave back 85 cents, took advantage of a police offer of amnesty for anyone returning money by last weekend.
Little Herbert said that he had to "do the right thing and turn the money in becuase it doesn't belong to me."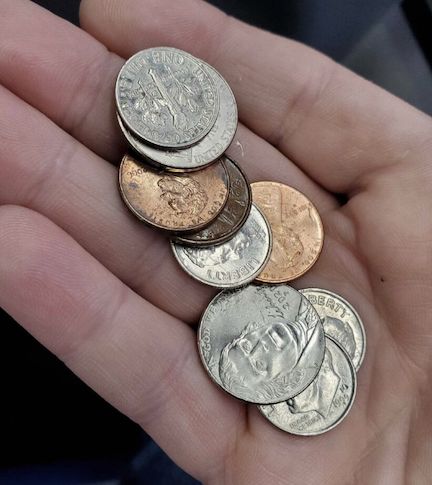 Eighty-five cents. Eighty-five cents out of hundreds of thousands of dollars. Doesn't sound like much, does it? And yet it might as well have been millions. Herbert didn't "steal" the change he recovered from the street; he simply found it there. But his heart was to do the right thing.
Sometimes "the right thing" comes in small acts of obedience. It's in the daily, small gestures of honesty and obedience that character is forged.
"One who is faithful in a very little is also faithful in much, and one who is dishonest in a very little is also dishonest in much" (Luke 16:10, ESV).
"His master said to him, 'Well done, good and faithful servant. You have been faithful over a little; I will set you over much. Enter into the joy of your master'" (Matthew 25:23, ESV).
"You shall not steal," (Exodus 20:15, NIV).