My two-year-old granddaughter watched with great interest as her big sister and I hunted for seashells during a family day at the beach. When she asked if she could try, I plopped her down on a pile of shells and she went right to work. Immediately, without any instructions or coaching, she held up one seashell at a time and scrutinized it. Those that passed her inspection went into the bucket but those that didn't were tossed over her shoulder. I marveled over her decisiveness and I wondered what possible criteria does a two-year-old use to discern the worthiness of one shell over another.
So, I stole a peek at her booty. There were a number of perfect shells in her bucket but there were far more defective shells; shells with holes in them; shells that had been worn by the surf; shells that were chipped and broken; shells that would never have made it into my bucket. There didn't appear to be a rhyme or a reason for what made it into my granddaughter's bucket. Rather, the collection seemed to be random. Like someone had just scooped them up and dumped them in there.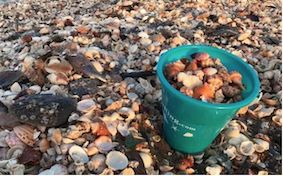 If the ways of a two-year-old are mysterious, how much more are the ways of God?
Have you ever looked into the bucket of things that make up your life and wondered, "How'd that get in there?" Are there things in your life that you would have never selected for yourself? Does your life ever feel random to you, with no rhyme or reason to it? Like someone just scooped them up and dumped them in there?
But that isn't at all the case. Every shell in your bucket has been handpicked; every shell has been scrutinized; every shell has passed God's inspection. All the details of your life, your circumstances and the people you know have passed the mysterious criteria of the Eternal One, of God Himself.
Who can possibly begin to see what God sees, or judge things by His criteria? No, ours is not to understand what God places in our bucket. Ours is to trust that each shell has been placed there with some purpose.
If you can't understand the mind of a two-year-old, how do you expect to understand the mind of God?
"Oh, how great are God's riches and wisdom and knowledge! How impossible it is for us to understand his decisions and his ways!" (Romans 11:33, NLT).