In the opening game of 2023's Monday Night Football, the Buffalo Bills took to the field against the Cincinnati Bengals. Among the players was Bills' safety, 24 year old Damar Hamlin. At 9:05, the ball in play, Hamlin tackled Bengals' receiver Tee Higgins, then suddenly collapsed on the field in full cardiac arrest. Fans and players stood in stunned disbelief as team medical personnel and EMS first responders performed CPR for more than 9 minutes to revive and stabilize him enough to be able to remove him from the field, then transfer him to the hospital where he remained in critical condition.
Ultimately, play was suspended. Yet something amazing happened, both on and off the field. America collectively took a knee — in PRAYER!
Pastor and evangelist Dave Kistler, founder and leader of H.O.P.E. Ministries International, made this powerful observation:
The world of social media, in fact the world in general, is abuzz over Damar Hamlin's collapse on the field last evening. Thankfully, quick responding sports physicians were able to perform aggressive CPR and evidently get Hamlin's heart beating after a reported cardiac arrest.

Photos have flooded Facebook, including pics of stunned and weeping players and coaches. But, none deserves more attention than the one of players from both teams KNEELING in unified and energetic prayer as the ambulance carried Damar Hamlin from the field.

Over the course of the last 11 hours, the requests for prayer from fans, players, coaches, and even sports broadcasters and media pundits have absolutely flooded social and mainstream media.

My dad used to say, "There are no atheists in foxholes." Evidently, there are no atheists amid a stunningly frightening incident like the world witnessed last night in Cincinnati.

Coach Joe Kennedy of the Bremerton High School in Bremerton, WA must be smiling right now, not for his recent religious freedom win at the Supreme Court only, but for the glaringly obvious fact that human beings' first and correct response in tragedy is to turn to God.

That response occurred last night on a global stage and NO ONE could stop it! No Freedom From Religion Foundation staffer complained, no "separation of church and state" advocate protested. NO ONE wanted to!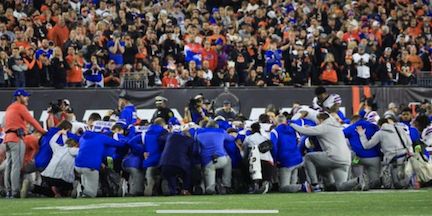 Kistler concluded:
The seriousness of the event demanded nothing less than earnest, aggressive, and united prayer - prayer to a God who cares and loves, and prayer that has been answered, as Damar Hamlin is alive with reported normal vitals, though in VERY serious condition.

Human beings everywhere, especially God-deniers, would do well to recognize that there is a God-shaped void in all of us - a void that no amount of athleticism (and I'm ALL for health, exercise, and fitness) money, fame, pleasure, or notoriety can fill!!!

... [Man] DESPERATELY NEEDS the comfort of God found ONLY in the God of all comfort - Jesus Christ! Mankind needs a relationship with Jesus for life here on earth, but more importantly for eternity!
"Pray without ceasing," (1 Thessalonians 5:17, ESV).
"Let us then with confidence draw near to the throne of grace, that we may receive mercy and find grace to help in time of need," (Hebrews 4:16, ESV).