Who could possibly forget the Miracle on the Hudson — the heart pounding story of 2009's US Airways Flight 1549. Just after take off, on route from New York City's LaGuardia Airport to Charlotte, North Carolina, the aircraft was struck by a flock of birds which were sucked into its engines, causing the plane to lose all power. To avoid crashing, pilots Chesley "Sully" Sullenberger and Jeffrey Skiles were left to literally glide the plane to a belly landing on the Hudson River just off the coastline of Midtown Manhattan. Because of their cool heads, quick thinking, and incomparable skill, not one life was lost. All were rescued before the aircraft, already filling with water, sank to the bottom of the Hudson.
And who could possibly forget that iconic scene of those 155 souls on board, who climbed out of the fuselage of that plane, into the frigid cold of a NY winter, and onto the wings of the plane to await rescue.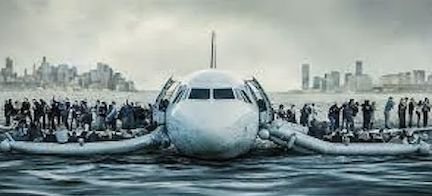 There was no time to consider handbags or baggage, briefcases or cell phones, or even coats and hats. All had to be left behind in the mad dash to exit before the plane would be claimed by the icy waters of the Hudson.
"My coat! My purse!" thought passenger Karin Hill as she stepped out into the frigid air. She had no choice but to leave them back at her seat ,18E, never expecting to see them again.
Yet somehow, all those personal items have been returned to their rightful owners — fully cleaned up and restored, as if they'd never been lost in the first place.
ABC News reports:
After the accident, US Airways called Global-BMS, a Fort Worth-based company that specializes in disaster recoveries. When the jet was hauled out of the Hudson and placed on a barge for inspection by accident investigators, Global official Mark Rocco was there, walking the cabin to tag and remove personal items to return them. …

"It looked like it had been in a dirty carwash," recalls Rocco. "A lot of the overhead bins were still closed, and a lot of things were still stored under the seats. I saw a wallet on the floor and wondered why it hadn't floated out of the plane."

Everything was soaked and smelled of jet fuel. But every item the Global workers found was tagged with a unique tracking number, bagged and placed on a refrigerated truck bound for a Texas warehouse.

"Freezing puts things into suspended animation," Rocco says.

Back in Texas, Global began defrosting, cleaning and restoring everything it could — including everything inside carry-ons and suitcases — and figuring out who owned what.
While many items couldn't be fully restored (e.g., many of the computer hard drives, cell phones, shrunken clothing, and the like), most items were meticulously spit shined, dry cleaned, reconstructed, and refurbished to at-or-near original condition.
Finally, many months later, Maryann Bruce, an executive from Charlotte, NC, got a visit from Deborah Thompson, US Airways' director of emergency response, who personally delivered back to her possession her briefcase, purse, mink coat, and a carry-on suitcase with all its contents, including a large diamond ring given to her by her husband for their 25th wedding anniversary.
Included in the stash of returned items was even her boarding pass for seat 5D. "I plan on framing that," she says.
One really has to admire the commitment and perseverance of the US Airways disaster teams determination to restore, renew, and return to their owners every last piece of their lost possessions. The attempts were heroic, if not perfect.
There is coming a day, however, when One far more committed, far more determined, far more capable, will restore and renew ALL things. In that day, nothing will be mourned as loss. Nothing will ever again suffer corruption or decay. All loss will be satisfied. All creation will be redeemed. ALL will be new!
"For behold, I create new heavens and a new earth, and the former things shall not be remembered or come into mind" (Isaiah 65:17, ESV).
"Then I saw a new heaven and a new earth, for the first heaven and the first earth had passed away, and the sea was no more. And I saw the holy city, new Jerusalem, coming down out of heaven from God, prepared as a bride adorned for her husband. And I heard a loud voice from the throne saying, 'Behold, the dwelling place of God is with man. He will dwell with them, and they will be his people, and God himself will be with them as their God. He will wipe away every tear from their eyes, and death shall be no more, neither shall there be mourning, nor crying, nor pain anymore, for the former things have passed away.' And he who was seated on the throne said, 'Behold, I am making all things new.' Also he said, 'Write this down, for these words are trustworthy and true' " (Revelation 21:1-5, ESV).
"But according to his promise we are waiting for new heavens and a new earth in which righteousness dwells" (2 Peter 3:13, ESV).