Since the summer of 2021, the debauched online "dating" site, OkCupid, has been plastering NYC subway cars and buses with advertising posters and signs which, just a few short years ago, would have been labeled pornographic, and thus illegal to publicly display.
Targeting those who practice "unconventional" lifestyles, the ads are intended to appeal to non-monogamists, swingers, sadomasochists, non-binaries, transsexuals, pansexuals, fetishists, and the like. They have literally nothing to do with "dating" and everything to do with promiscuity and lurid, bizarre, fantastical, sexual encounters.
Overtly depicting threesomes, orgies, even sexual encounters with inanimate objects or animals, the ads are intended to simultaneously titillate potential "customers" and shock, anger, and agitate detractors. Pictures of the ads are much too inappropriate to post in this illustration. But you can follow the link to the source above "if" you feel you can stomach viewing them.
They are prominently displayed, not on the walls of sleazy, backroom brothels, but on the walls of public transportation which carry businessmen and barmaids, stockbrokers and students, nannies, and grannies, tourists, and toddlers.
In fact, the bright colors and "fun" looking flare of these have some wondering if they aren't actually intended to purposely grab the attention of young children. "Insane to me that OkCupid, a dating app company, has put up a bunch of ads in the NYC subway that seem like they're marketed at 5-year-olds," said one commuter.
Another, who has no choice but to ride public transit to and from work commented, "Ok Cupid's ads make me into a nonconsensual participant in the sex lives of strangers twice a day, every day. It just skeeves me out."
One such commuter was recently attempted to tear down the posters. A video of her "vandalism" went viral, prompting a spokesperson for NYC MTA to say, "Customers are free to express their disdain with subway advertisements, but they are not permitted to destroy them. Riders who violate that basic principle are subject to prosecution."
The ads seemed to have disappeared for a short while but have begun showing up again, this time behind protective glass to prevent further vandalism.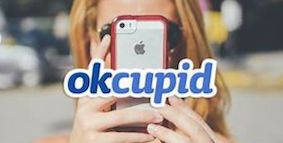 Such posters are indeed signs of our times. Our culture is not content to simply engage in debauched behavior. Rather, it seems determined to "advertise" it, promote it, normalize it, and shame anyone who does not applaud it. These are signs that God has turned our world over to the self-destructive lusts and passions of the last days.
"Therefore God gave them up in the lusts of their hearts to impurity, to the dishonoring of their bodies among themselves, because they exchanged the truth about God for a lie and worshiped and served the creature rather than the Creator, who is blessed forever! Amen. For this reason, God gave them up to dishonorable passions. For their women exchanged natural relations for those that are contrary to nature; and the men likewise gave up natural relations with women and were consumed with passion for one another, men committing shameless acts with men and receiving in themselves the due penalty for their error" (Romans 1:24-27, ESV).