Todd Pierce is a professional cowboy, rodeo rider, and horse trainer. Over the years he has come to discover that his experience with taming wild horses is indeed a picture of God's great love and care for us as He reaches down to tame our own wild hearts, making us fit for His service and setting us free to experience our true potential.
The following is a partial transcript of one of his demonstration videos wherein he films himself gently wooing and taming a wild horse, explaining step by step how the process relates to our own relationship with God, and calling us to "leave behind our wildness and embrace the freedom that a loving God offers."
The following are excerpts from the transcript of the video. For the fullest experience and understanding, please be sure to follow this link to view the entire video. The demonstration begins at marker 00:01:01.
The scene opens with Todd alone in a small training ring, making his first approach to a wild horse, a filly, who'd been brought in the previous evening, and he makes the observation that "because she hadn't had any handling, she thought that she was actually doing really well, because she just lived in a pasture, got deep grass, and that was her life."
He continues:
Unfortunately, that's where I believe a lot of people live, is they've settled for this ability to stay alive and survive, but they don't actually know what they're capable of and the potential that's hidden inside of them. And you can't forgive yourself. You can't bring out the greatness inside of you. That's something that is reserved for Jesus alone. So we'll let her move around because I want her to know that she's actually free. I can't control her.

And now that she's looking at me, she's probably asking the question of why it is that she's here and what do I want from her? A wild horse, even the wild horses that we have in our country, they don't live near as long or near the quality of lives of horses that are actually cared for.

If you're gonna go round up a wild horse, it will take a tame horse to do it, because one tame horse can overcome fifty wild horses simply because it's partnered with man.

It probably never even crossed her mind that I would want something from her. If she knew what my dream was for her, there wouldn't be any hesitation in this at all. And what she's gonna get to encounter today is not just a look from me, not just a knowledge of me, but such a connection that everything that's inside of her, as far as all of her gifts, all of her potential is gonna get released. She's super nervous about this, and she's got a reason to be. All of her instincts say that, "I wanna stay in control of my own world."

She's paying just enough attention to me so that she can be comfortable. But if we're gonna get anywhere today, she's gonna have to understand that we're gonna have to become one. And that oneness is gonna take a lot of courage on her side, and a lot of kindness and patience on my side. ...

The rope isn't here to control her. It' like the Holy Spirit that draws us to Him. … If we use fear and intimidation so that we can dominate her and manipulate her to make her do what we want, then we've got a broken animal. We don't want a broken animal. We want a healed animal. And her nature would actually work against that healing if all she listens to was her instincts. ….

She's got her boundaries. She comfortable with me around her, petting her … [but she's thinking], "This is unsafe. Someone's gonna hurt me. Someone's gonna take something from me. How do I stay in control?"

She wants to know me. She just doesn't know what it will look like to give up all of herself so that she can have all of me.

I don't wanna get too far away from her here for a second, because I don't want her to think that every time she gets scared that the only way she can feel safe is to get away from me, because, eventually, when she gets scared she actually gonna start lookin' for me.

If she felt like I was gonna put her in a corner or force her to do something, this would have had an entirely different outcome. Just because you're in authority, doesn't mean that you have to dominate [people].

It's nothing short of a miracle. This is what love does. It creates safety. It creates power. It creates a whole new world of opportunity. ...
As he slips on the saddle for the first time, he makes this powerful observation:
She don't know yet that this is a gift, but she'll learn. … It's not because she was forced; it's because she was loved.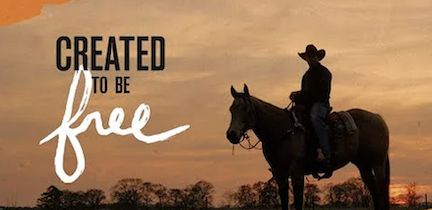 As he is finally able to mount her, ride her, control her movements, her speed, her direction, he makes the following observations:
Because God was so kind, ... He showed up in human form and Jesus walked around and He interacted with people, He just gave invitations. He never told them what to do or what not to do. He just said, "Would you come and follow me?" And that following looked like something. It required them to walk away from one thing so that they could pursue something else. And that pursuit was Jesus.

And so today, while you watch this and you watch her deal with her own concerns and misunderstandings, that you can look at your life again and say, "In what areas is [it] that I've just actually limited God, and I've wanted to keep Him at some distance because that's where I feel safe?"

But she wants to know me. She just doesn't know what it's going to look like for her to actually give up all of herself so that she can have all of me.

God is perfect love. He's the perfect Father. And I see a world that's filled with people that just don't -- they've never encountered that. They don't understand that the creator of heaven and Earth is actually desiring such an intimate connection with you.

The other approach to doing this was that I would actually have to establish dominance with her. I'd have to make her feel like I'm more powerful than her in a really intimidating way. That's just not the way that Jesus operated. He had all the power of heaven to do whatever it is He wanted to do to the people around Him. Yet He chose this way and He said, "Come and follow Me. …

So Jesus had a lot of people following Him. And they would follow Him the way they would follow another man.It's okay that we know how to follow, but I don't want her to just learn how to follow me around like a puppy on a string. She's got too much power. She can do stuff with me now that she's never even dreamt that she could do. This horse is not my slave. She's actually made a decision for herself that even with all of the back story and all the things that she's been through, her saying yes to me became a turning point for everything that's going to happen from here on out.
Won't YOU say "yes" to Jeusus? Won't you let him tame your wild heart and release all the potential within you? Potential that can only be realized when you submit your life to His loving, gentle control. Won't you let Jesus set you FREE to be all you can be?
"So if the Son sets you free, you will be free indeed" (John 8:36, NIV).
"I am the vine; you are the branches. If you remain in me and I in you, you will bear much fruit; apart from me you can do nothing" (John 15:5, NIV).
"Take my yoke upon you and learn from me, for I am gentle and humble in heart, and you will find rest for your souls" (Matthew 11:29, NIV).