Paul wrote to the Corinthians, "Besides everything else, I face daily the pressure of my concern for all the churches" (2 Corinthians 11:28). The Apostle Paul, like every pastor, knew what it was to carry the burden of concern for others. As a pastor for over thirty years, I understand just how heavy that burden can be, and the emotional toll it can take when it's carried over an extended period of time. I've become convinced that there are certain things you must learn to avoid if you're going to last in ministry. Allow me to illustrate.
My last church was a recovery church. My heart's burden was to see every person who passed through those doors experience deliverance from the devastating effects of drug addiction and alcoholism. Such a ministry can be very emotionally frustrating, especially when there are families with young children involved, and the addict continues to relapse. One such case involved a woman who had recently lost her husband and daughter to a tragic accident and had just checked herself out of recovery in the middle of her program.
The future of her young sons hung in the balance as her church support team sat around a dining table to counsel her. It became pretty clear, after listening to how she was going to "work out" her own sobriety program, that every person sitting around that table was more committed to her success than she was.
I finally said, "it's clear to me this isn't going to work. We can't care more about your sobriety than you do. When that changes, let us know. For now, we need to step aside and let you do what you've already determined you're going to do."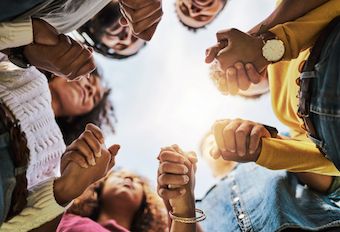 There's a limit to how much we can and should try to help those who fail to see their own need. When you're in the caring business, you often have to put a check on your compassion. You can't care more than the ones you're trying to help. If you do, you'll burn out on the wrong people, on the ones that can't be helped, and you'll have nothing left for the others.
This is God's dilemma, as well. He cares for each of us more than we care for ourselves. But just like my alcoholic friend, we rebuff His care when we should welcome it. We do this because we don't really want to be delivered from our destructive behaviors, from our addictions. So we reject His role in our recovery. We assure Him we'll do just fine handling it our way. And God, being as wise as He is compassionate, steps aside.