On a hot, July summer day in 2021, a man discovered some 158 bowling balls in his backyard during an outdoor renovation. It was during the demolition, around the back steps of his house, that Olson discovered a black sphere buried in the sand behind some cinder blocks.
"That was one of the bowling balls," he said. "I didn't think a whole lot of it. I was kind of assuming maybe there were just a couple in there just to fill in. The deeper I got into it, the more I realized it was just basically an entire gridwork of them making up the weight in there."
As Olson continued digging, he uncovered ball after ball. It finally clicked how this treasure of rusted, cracked, dirty balls got there. There used to be a bowling ball manufacturing plant nearby in Muskegon, Michigan.
The balls were from the 1950s, which meant they were 80 years old. Although useless as bowling balls, they still had value to some. Olson plans to use the balls as edging for his landscaping or to make sculptures. He has also donated eight balls for use by a church in a bowling ball cannon at a pig roast. His stepfather also plans to use them as custom furniture legs.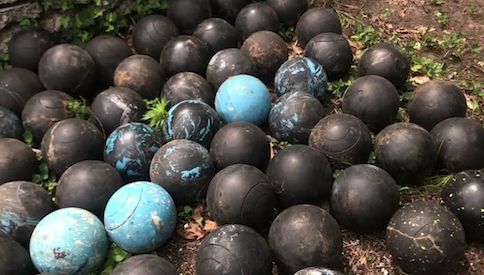 In this story, it was the heart of the recipient that determined the value of the treasure. One saw edging for their landscaping, another a bowling ball cannon, and yet another, legs for their furniture. The point is the real value isn't in the treasure we unearth but in how we use it.
Jesus said, "For where your treasure is, there your heart will be also" (Matthew 6:21).