MOGADISHU, Somalia (AP) — Somalia's sports minister publicly apologized Wednesday and ordered that the chairwoman of the national track and field federation be suspended after a seemingly untrained female sprinter represented the African country at the World University Games in China and took more than 20 seconds to finish a 100-meter race.
The minister reported that they did not know how the woman, 20-year-old Nasra Abukar Ali, was selected to compete in the women's 100 at the student games in Chengd. She very quickly fell behind, and finished more than 10 seconds behind the winner (in a 100 meter race, that is an eternity!).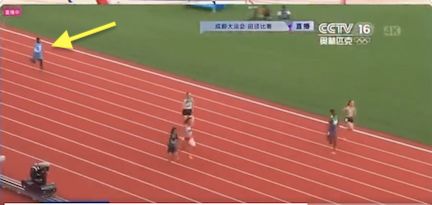 Some charged nepotism, some charged incompetence, but all cried foul, claiming the perfomrance posed a serious embarrassment to all serious Somali athletes, as well as being damaging to Somalia's reputation on the world stage at large.
Video of the race was shared in a tweet criticizing Ali's participation, and calling for the head of Somalia's Ministry of Youth and Sports to immediately step down. The video has since gone viral, with nearly 70 million views to date.
Scripture likens the Christian life to running a race, and in doing so cautions that we should not take our participation in that race lightly, but rather train and discipline ourselves to perform well.
That said, some of us will train harder than others, some will quit the race, but yet others will finally limp across the finish line, albeit well behind the rest of the pack.
Ali was not prepared for the race she had entered, but to her credit, she did finish the race. Perhaps it is her goal to keep running, keep training, improving her fitness and her time. Or, perhaps she entered the race with no other motive than to mock the process. We can't know.
What we can know, though, is for those of us sincerely called by God into the Christian life, we are called to "run with endurance, the race that is set before us" (Hebrews 12:1).
"Do you not know that in a race all the runners run, but only one receives the prize? So run that you may obtain it. Every athlete exercises self-control in all things. They do it to receive a perishable wreath, but we an imperishable. So I do not run aimlessly; I do not box as one beating the air. But I discipline my body and keep it under control, lest after preaching to others I myself should be disqualified" (1 Corinthians 9:24-27, ESV).
"I have fought the good fight, I have finished the race, I have kept the faith. Henceforth there is laid up for me the crown of righteousness, which the Lord, the righteous judge, will award to me on that day, and not only to me but also to all who have loved his appearing. Do your best to come to me soon" (2 Timothy 4:7-9, ESV).
"But I do not account my life of any value nor as precious to myself, if only I may finish my course and the ministry that I received from the Lord Jesus, to testify to the gospel of the grace of God" (Acts 20:24, ESV).