Jeff Henderson, in his book Know What You're For, tells a story of when he received such a gift; a surprise.
He was driving around town with a billionaire. He had never driven around a billionaire before. He found himself driving slower, more cautiously. Hands at ten and two. Eyes on the road.
His passenger was Truett Cathy, founder of Chick-fil-A, the inventor of the famed chicken sandwich, and at that time, Henderson's boss' boss. He was driving Mr. Cathy to a speaking engagement in a white Ford with cow spots on it. As others passed the only cow-spotted car driving down the road, they gave them a wave or a smile.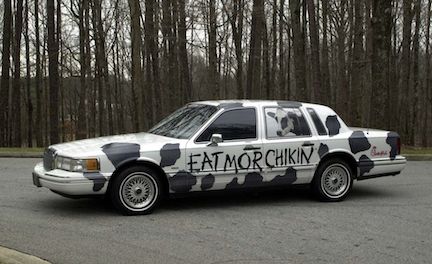 The gift — the surprise — was the conversation he and Mr. Cathay enjoyed. Henderson was surprised that Mr. Cathy conversed with him at all, much less having many questions to ask him.
Once Cathy started talking, Henderson expected he would discuss sales or chicken. But instead he took a great interest in Henderson. He asked about his wife, his children, his parents. Then, they discussed parenting and how to be great husbands. They didn't talk about sales goals or chicken sandwiches. Instead, they talked about things of permanence.
Henderson drove slower, wanting to relish the moment.
These are moments — gifts — we may not recognize at the time. Moments that take their time. They quietly make their way through the crowded thoughts, experiences, and memories in our brain, and before we know it, they're standing beside us.
At some point, we turn and recognize how these moments became a memory and how it has been shaping us the whole time.
The car ride and conversation with Truett Cathy was one such moment for Jeff Henderson. A seed was planted as Henderson realized Truett Cathy was "for" him. He was more interested in what he could do for Henderson than what Henderson could do for him.
This is the message of the Good News. Jesus — second Person of the Divine Trinity; Lord of the Universe — was born, lived, died, was resurrected, and ascended to Heaven, and will come back, all for us! His interests and concerns are not for Himself; they are for us. His mission wasn't for Himself; it was for us. Jesus is for us!
Since we know He is for us, let us live each day for Him!
"For if we live, we live to the Lord, and if we die, we die to the Lord. So then, whether we live or whether we die, we are the Lord's" (Romans 14:8, ESV).