Efforts to scrub Christianity from our culture, even our history are growing exponentially in this post-Christian era. Nowhere is this more evident than in the ever widening epidemic of the vandalizing and theft of Christmas Nativity scenes, specifically the theft of Baby Jesus. Just look at these recent headlines.
- Vintage Baby Jesus, other nativity props stolen from Alexander County church
- Grinch Strikes Again, Baby Jesus is Missing – Again!
- Stolen Baby Jesus returned to local restaurant's Nativity scene
- Surprising number of people stealing baby Jesus from nativity scene
- Baby Jesus stolen from nativity scene in Solihull
- Statue of baby Jesus stolen from Grosse Pointe Farms church's nativity display
And here's a particularly sad one …
- "So Much Hatred': Vandals Smash Ancient Church's Nativity Scene, Decapitate Joseph Figurine in 'Barbaric' Attack
Then there's this one which went viral just this week, as the thieves were caught on camera absconding with the the Christ child figurine …
- Man Runs Off With Baby Jesus Stolen From Sundance Square Nativity Scene
Some people are are giving up and just not putting out their annual displays. Others are looking for a solution, and even for protection. As one news station has reported:
As Christmas approaches, many people are looking for divine intervention, or in some cases insurance to prevent more trouble in Bethlehem. "There is a company that will insure your manger set. There's a company that has a special 'baby Jesus' rider for churches and for stores," said Pastor James Carney of Seattle Capitol Hill Presbyterian Church, whose church display has been vandalized repeatedly.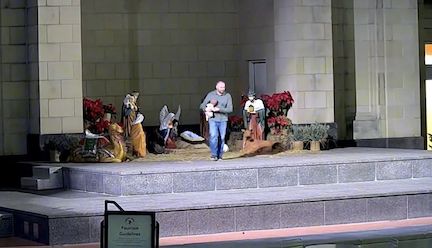 They cannot hide Him; they cannot dismiss Him; they cannot diminish Him; they cannot extinguish Him. Try as they may, they cannot rob the world of Baby Jesus.
"The light shines in the darkness, and the darkness can never extinguish it" (John 1:5, NLT).