I like the idea of family heirlooms. Something tangible and meaningful that I can pass on to my kids that will give them a lasting connection and memory of previous generations of our family. I often think about what I could give them. My grandfather had a nice Swiss watch that I received after he died, but it isn't working and just sits in a drawer. I also received a Winchester rifle for deer hunting that my Grandfather used, but when I took it to the range, I realized the barrel was worn out. It did not shoot very accurately at all anymore. My mother gave me a wall clock that had been in my family for years. It was beautiful, and I remember its pleasant chime that announced every hour when I was a kid. After winding it up and hanging it on the wall, we realized that it wasn't working either. Its chiming days were over.
It seemed that the only things I had to hand down to my kids were not working, broken and useless. Then I thought about giving my kids one of my old bibles. As I looked through them I found that they were all well worn, marked up and falling a part.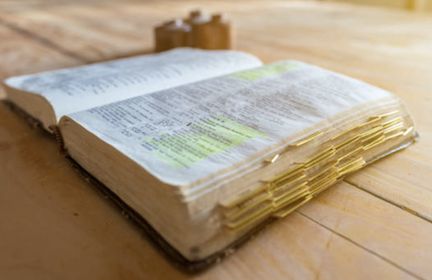 I think these are all reminders that everything in this world becomes broken and useless. Everything of this world that we hand down to our kids will break, wear out or fall apart.
The most important thing we can hand down to the next generation is our faith. It is our faith in Jesus that will never spoil, rot or fade. It will never break, wear out or fall apart.
I don't mean just to hand down the outward expression of faith, like going to church and praying before meals. Those things are important as long as they point to Jesus, but if they become what's most important then they have lost their value entirely.
I realized that I have already been handing down to my kids what is most valuable, a example of walking with Jesus. Every time I pray with my kids, every time we read the Bible together, every time we love our neighbor, we are giving them something that will last for eternity through modeling a relationship with God.
An important part of our model to our kids should be giving and receiving forgiveness. Our kids know more than most people that we are not perfect. We don't model perfection; we model people who live by grace. We can teach them how to deal with our imperfections by asking for forgiveness and teaching them about the forgiveness of Christ every chance we get.
I ended up giving each of my kids one of my worn out, marked up, Bibles that are falling apart. I did that not so they can pass on those books to their kids, but so they can pass down the example of reading it, using and marking it up. The ability and desire to hear God's voice through is Word is what's most important to give to the generations to come.