As a family in ministry, we often didn't get a lot of quality family time during the holidays. So we had a tradition of taking a post-Christmas family road trip to sunny Florida. Along with a few gifts, each of our kids was given some cash and the opportunity, along the way, to pick out a few things for themselves. Inevitably, during these trips, we would end up in a south Florida gift shop.
It was during one of those gift shop stops that my youngest son, probably 6 or 7 years old at the time, first spotted an amazing rooster designed almost entirely out of seashells. He was completely enamored by it. He was also convinced that I would love it as much as he did.
So he took the seashell rooster to the man at the register to find out how much it would cost him. After completely emptying his pockets of what was supposed to be his Christmas money, and some negotiation over the difference, he was so proud to walk away with that amazing seashell rooster for me, his father.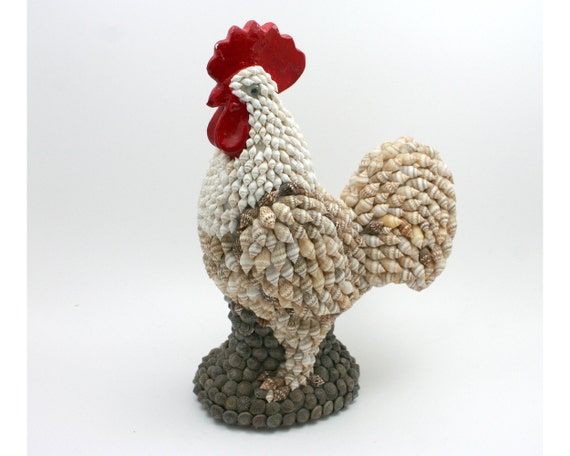 From a practical point of view, I have never been given a more worthless gift. But when measured in terms of the sacrifice involved, I have never been given a more meaningful gift. In fact, of all of the gifts I've received over the years, the seashell rooster is still on my mantle. And its value to me only grows with time.
Although it serves no practical purpose, that rooster will always remind me of the time when my son completely forgot about himself, sacrificing all the money he had, in order to bless me. For that reason, it will always be one of my most valued possessions.
Something similar happened two-thousand years ago when God forgot about Himself in order to bless us. But the gift of God's Son, sacrificed for us, would prove to be anything but impractical. Once received, it would pay for our sins, restore us to right fellowship with God, assure us of our true worth, bestow the promise of the resurrection, and grant us eternal citizenship in God's Kingdom. Receiving Jesus literally satisfies all of our deepest longings and all of our most essential needs.
And when this gift is measured in terms of the sacrifice involved, we see how profoundly wonderful it really is, for it represents the highest price that has ever been paid for anything. God was willing to make the greatest of all sacrifices for the joy of loving us.
You will never be offered a more meaningful gift. May the value that you place on this gift, and the joy that you find in Jesus, only grow in time.
"Thanks be to God for his indescribable gift!" (2 Corinthians 9:15).
"Because of the joy awaiting him, he endured the cross ..." (Hebrews 12:2).