Cleaning products are supposed to make things clean and germ free, right? But did you know that cleaning products can actually be the vehicle for spreading soil and germs? Sounds counterintuitive, doesn't it? How can cleaning products make things soiled or contaminated?
Well, consider what recently happened with a high-end line of cleaning products, sold under the name The Laundress, which recently had to recall nearly 8 million units of products, including laundry detergents, stain removers, and surface cleaners, because they potentially were infected with dangerous bacteria with really long, hard to pronounce names — like Burkolderia Cepacia Complex, Klebsiella Aerogenes and Pseudomonas.
Safety regulators said consumers should "immediately stop" using all referenced products and immediately return them for refund.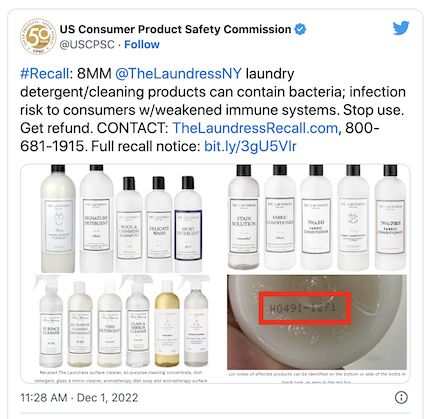 Or considered another similar incident just months prior when the Clorox company — the King of Clean, right?! — had to recall a variety of Pine Sol cleaning products because of the risk of bacteria.
In both cases, the very products designed and marketed to clean our filth, and thus keep us healthier, were actually spreading germs that could kill us.
Can you say irony?
Sadly, there is a spiritual parallel taking place in human hearts every minute of every day, as we make our feeble attempts to wash ourselves, purge ourselves of the stain of sin.
We attempt to scrub our soiled souls with the detergent made of our own human efforts, good works, and well intentions. We try to wash away past and present sin with the stain remover of pious acts or legalistic mandates. Yet for all our effort, we are simply injecting more sin, more soil, more contamination into the mix. And just like those contaminated cleaning products, our own self-righteous efforts can (and will!) kill us.
Scripture is clear — ALL our righteous deeds are like smelly, filthy rags in the nostrils of the Lord (Isaiah 64:6). The more we try to clean ourselves, the filthier we become.
There is only One cleaning solution fit to remove the stain of our soiled souls, and that is the cleansing power of the blood of the Lamb, Jesus Himself.
"But if we walk in the light, as he is in the light, we have fellowship with one another, and the blood of Jesus his Son cleanses us from all sin. … If we confess our sins, he is faithful and just to forgive us our sins and to cleanse us from all unrighteousness" (1 John 1:7,9 ESV).