How many light bulbs have you had to change in your lifetime? In today's world, LED light bulbs will only have to be replaced, on average, every 20 years or so. Yet, until just recently, it was commonplace to have to replace the light bulbs in our lamps and fixtures every several months, depending on usage.
In sharp contrast, shining brightly beyond the expectations of any modern bulb, the Centennial Light Bulb has been faithfully casting light for the Livermore Fire Department for over 120 years without burning out.
A website dedicated to the Centennial Bulb reports,
[It was] first installed at the fire department hose cart house on L Street in 1901. Shortly after it moved to the main firehouse on Second. In 1903 it was moved to the new Station 1 on First and McLeod, and survived the renovation of the Firehouse in 1937, when it was off for about a week. During its first 75 years it was connected directly to the 110 Volt city power, (subject to the power outages), and not to the back-up generator for fear of a power surge. In 1976 it was moved with a full police and fire truck escort, under the watch of Captain Kirby Slate, to its present site at Fire Station 6, 4550 East Ave., Livermore, California. It was then hooked to a separate power source at 120V, and UPS according to Frank Maul, Retired City Electrician. There was one interruption in May, 2013, when the UPS failed and it was off for at least 9 1/2 hours.
People are drawn to the light. They come from far and wide to see it burning, and a "bulb cam" was even installed for online viewing.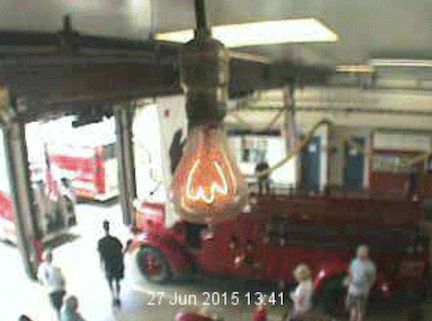 It seems that light bulbs were invented, from the beginning, with he capacity for great longevity. And while Thomas Edison et al invented the rudimentary bulb, it was the work of Professor Adolphe A. Chaillet and the Shelby Electric Company who invented and developed the improved filament that allowed for seemingly perpetual illumination.
So why has this one bulb lasted decades beyond even our most efficient, modern fixtures? The answer is "Planned Obsolescence." You see, providing a bulb with seemingly perpetual illumination is not necessarily a profitable venture.
According to various dictionaries, "Planned Obsolescence" can be defined as "a policy of producing consumer goods that rapidly become obsolete and so require replacing, achieved by frequent changes in design, termination of the supply of spare parts, and the use of nondurable materials."
Enter the Phoebus Cartel.
The Phoebus Cartel was a cartel that existed to control the manufacture and sale of incandescent light bulbs by appropriating market territories and fixing the useful life of such bulbs. … The cartel included manufacturers Osram, General Electric, Associated Electrical Industries, and Philips, among others. … [By] 1924, the main bulb manufacturers in America and Europe secretly formed a cartel to limit the average life of lamps to 1,000 hours," thus ensuring the re-marketability of the product (though it's no longer legal to do so, at least not here in the U.S.).
So while Edison's original commercial lightbulb from 1881 lasted up to 1500 hours, others began marketing bulbs that lasted nearly double that. Then, by the turn of the new century, Challet's bulb was lasting for … well … it continues to burn today. Where's the profit in that?! You'd never need to buy another bulb in your lifetime!
But even with the introduction of LED bulbs, we're still not seeing the mass production of bulbs with the durability and longevity of the Livermore Fire Department's Centennial Bulb.
Light bulbs are ubiquitous. They're an everyday necessity of life. So, why do people come from far and wide to see the Centennial Light Bulb? Why are people drawn to this light and not to others? Well, it hasn't failed in 120 years! By comparison, every other light bulb is inferior. This difference is remarkable enough to catch the world's attention.
Jesus said, "You are the light of the world. A town built on a hill cannot be hidden. Neither do people light a lamp and put it under a bowl. Instead, they put it on its stand, and it gives light to everyone in the house. In the same way, let your light shine before others, that they may see your good deeds and glorify your Father in heaven" (Matthew 5:14-16, NIV).
Christians aren't the only people who perform good works. However, there is a different quality to the love that Christians are called to share, one that causes it to stand out. The sacrificial nature of Jesus' love for the whole world sets the tone for the Christian calling. And because our love is a reflection of Jesus' love, it is not in pursuit of personal gain — so there's no "planned obsolescence" here!
Indeed, the light we bear is the light of God; it will never burn out. God intends our light to burn brightly from now into eternity.
People are drawn to the light. Be the light! Be the bulb that outshines all the others!
"That you may be blameless and innocent, children of God without blemish in the midst of a crooked and twisted generation, among whom you shine as lights in the world" (Philippians 2:15).
"For so the Lord has commanded us, saying, "'I have made you a light for the Gentiles, that you may bring salvation to the ends of the earth'" (Acts 13:47, ESV).