Skier Francis Zuber was zipping down the tree lined slopes of Mt. Baker in northwestern Washington state when he lost control and ended up toppling into the deep powder off the trail. As he worked to right himself, he noticed a snow board protruding from a deep drift. This alone was an unusual sight. But crazier still, the board was moving!
It took him only moments to realize that someone was attached to that board, but apparently buried upside down under the depths of the drift.
He worked quickly to take off his skis so he could make his way to the stranded snowboarder, where he then began feverishly digging to extricate him. Breathless and weary, he just kept scraping at the snow looking for any signs of life. He eventually pulled out a small, yellow rescue shovel (that's one well prepared skier!) to enhance his efforts.
"Hold on! I'm coming! … Hey, you gonna be alright? Can you hear me?"

As he freed the trapped boarder's arms, he exclaimed, "Come on! Help me out! You okay? You alright?"

When he finally reached and uncovered the victim's helmet, he said with relief, "Okay, you're good. You're good. I gotcha. You okay? Can you breathe?

A quiet "yeah" can be heard from beneath the helmet.

"Okay" said Zuber breathlessly, "we're both gonna just catch our breath and then I'm gonna dig you out, okay?"

Though faint and weak, one can hear the gratitude in the simple, relieved reply, "Thank you."
Zuber, an unlikely and unexpected hero, stepped up to rescue a stranger from certain death.
We only have such clear and comprehensive details of the harrowing rescue because Zuber was wearing a sports camera on his helmet, recording every moment.
Be sure to click here to watch the heart-pounding video in its entirety.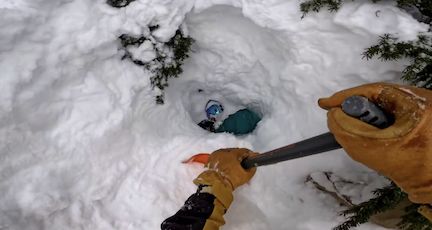 Like an exuberant skier, we go zipping over the rough and tumble slopes of this life, so engrossed in our own thrills (and spills), that we fail to notice the mass of humanity all around us, buried upside down in the drifts of life — dying people "stuck" in despair, hopelessness, full of fear and regret, feeling utterly alone and invisible.
No doubt that's how the bruised and beaten man felt, left for dead by robbers on the road from Jericho to Jerusalem, as he lay dying in the street. Many passed by him, walked around him, ignored him. Then one man finally noticed him, took pity, and stepped in to help.
"… and when he saw him, he took pity on him. He went to him and bandaged his wounds, pouring on oil and wine. Then he put the man on his own donkey, brought him to an inn and took care of him" (Luke 10:33b-34, NIV).
An unlikely, unexpected hero, the Samaritan, stepped up to save a dying man.
Does God call us to anything less? No! In fact, He calls us to something more. He calls us to not just "happen" upon these dying ones, but actively, intentionally, purposefully keep our eyes peeled for them, peeled for any signs of life, so that we can jump into action to offer them a life line — the good news of the Gospel.
Don't turn a blind eye. Be a hero! Look for those whose lives are buried under the burdens of life without Jesus. And with the same feverish urgency and intensity of Francis Zuber, go dig them out!
Then listen for the breathless, relieved reply ... "Thank you."
"He said to them, "Go into all the world and preach the gospel to all creation" (Mark 16:15, NIV).
"How, then, can they call on the one they have not believed in? And how can they believe in the one of whom they have not heard? And how can they hear without someone preaching to them?" (Romans 10:14, NIV).