SAD AND USELESS, a "humor in the news" blog site, reports:
Photographer Oliver Curtis has spent several years going to famous tourism objects and landmarks and pointing his camera in the opposite direction, therefore purposefully capturing the famous landmarks without the actual landmark.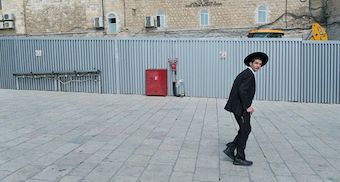 *The above pic is The Wailing Wall, looking the other way. Follow the "Link to Source" above for reverse pics of The Great Wall of Chin, The Mona Lisa, Stonehenge, and many more.
The locations of the world's most famous landmarks are pretty mundane without the presence of the landmark itself. So why would anyone want to turn their back on a landmark? Who is interested in a world of the mundane, the ordinary, absent of any obvious object of import or significance?
That same question could be asked of those who live their lives without God. To turn your back on God is to reject the One who adds true meaning and significance to an otherwise meaningless life.
But when we allow God His proper place in our lives, spectacular things happen, even in the midst of the ordinary.
In fact, it is the ordinary that provides the backdrop for the truly important landmarks of life—things like the New Birth, a rededication, a moment of grace, or an act of forgiveness.
The spectacular can and does happen anywhere—even among the ordinary—even in a stable—even in a feeding trough. Turn your back on the "babe" and the manger scene is just another barn.
"This will be a sign to you: You will find a baby wrapped in cloths and lying in a manger" (Luke 2:12).