The drug problem has gotten so bad in our major cities, that Kyle Clark, a journalist and newscaster on 9News, Denver, Colorado, tweeted out this week that he has decided to carry Narcan* with him at all times.
"It's a simple thing that we can do to save lives, as fentanyl kills hundreds of Coloradans a year. The City of Denver is now mailing Narcan to any resident who asks for it. … All across Colorado, you can ask for Narcan at a pharmacy and get it without a prescription.

"If you know someone who is having an opioid overdose, you can easily administer Narcan as easily as you do an allergy spray, and potentially save their life. And it can't hurt them or someone else accidentally.

"We learn how to do the Heimlich Maneuver on the off chance that we could someday use it to save a life. Same thing with CPR.

"I'm gonna carry Narcan; and I ask you to consider it, too."
Note that Narcan does NOTHING to stop substance abuse. In fact, even its lifesaving, overdose-reversing effects are strikingly temporary, and further medical intervention has to be immediately sought, following its administration.
As such, some commentators were quick to point out that such efforts might save a life "in the moment," but the person will still die if their addiction is not permanently addressed.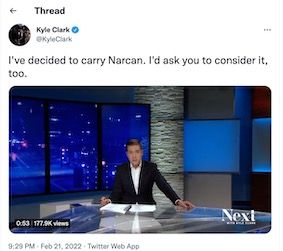 *[Narcan according to the SAMHSA, is "a medication approved by the Food and Drug Administration (FDA) designed to rapidly reverse opioid overdose. It is an opioid antagonist—meaning that it binds to opioid receptors and can reverse and block the effects of other opioids, such as heroin, morphine, and oxycodone, [and fentanyl."]
As Christians, we've been given the life-saving remedy that can save not just the body, but the very soul of a man. But do we carry it with us at all times? Are we prepared to administer the cure at a moment's notice? Do we even recognize the enormity and the urgency of all the dying souls around us? And we're not just talking about addicts.
We are confronted daily by the walking dead – in our classrooms and offices, and subway cars, and grocery stores; on our sidewalks, and highways, and street corners; even in our churches, and in our own living rooms! People all around us are spiritually dying and need the cure of the saving grace of Jesus.
Clark is right. We're willing to learn the Heimlich Maneuver and CPR. Some might even be willing to carry Narcan. But will we carry the truth of the Gospel both in word and deed, always at the ready to share with a dying soul?
"But sanctify the Lord God in your hearts, and always be ready to give a defense to everyone who asks you a reason for the hope that is in you, with meekness and fear." 1 Pet 3:15 (NKJV)
"For I am not ashamed of the gospel, for it is the power of God for salvation to everyone who believes, to the Jew first and also to the Greek." Rom 1:16 (ESV)
"For "everyone who calls on the name of the Lord will be saved." How then will they call on him in whom they have not believed? And how are they to believe in him of whom they have never heard? And how are they to hear without someone preaching?" Rom 10:13-14 (ESV)