Put a bunch of crabs in a bucket and you'll witness an interesting phenomenon. When one attempts to climb out of the bucket, the other crabs pull him back down.
Follow the link above to learn more about "Crab Mentality."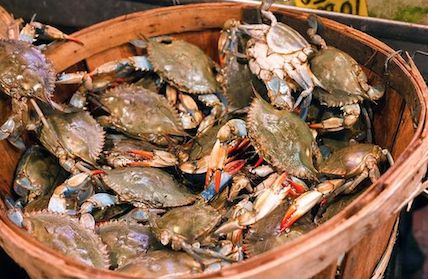 We see this same thing happen whenever a seeker begins to look for a way out of his hopeless life. Those who are in the same "bucket" reach out to pull him back. Even those who claim to have no interest in spiritual things will suddenly display a vested interest in holding him back. If there is no God, why should they care?
"Blessed are those who are persecuted because of righteousness, for theirs is the kingdom of heaven" (Matthew 5:10).
"Truly I tell you," Jesus replied, "no one who has left home or brothers or sisters or mother or father or children or fields for me and the gospel will fail to receive a hundred times as much in this present age: homes, brothers, sisters, mothers, children and fields—along with persecutions—and in the age to come eternal life" (Mark 10:29-30).
Additional Application:
From the blog page "Ridiculously Extraordinary":
"I've noticed myself doing this on occasion and it's upsetting to think about. For example, somebody brings an idea to me and I immediately shoot it down. 'Ehh, I don't think that will work.' And you know what? It might not. But who am I to shoot someone down?
"I'm supposed to be supportive of my friends, family, and business partners.
"So from now on, if a friend comes to me with an idea, instead of shooting it down if I think maybe it's not doable I'll say 'Hmm, I'm not sure I can help, but don't listen to me. What steps can you take right now to make it happen? And how do you think I can help?'"
"Just think of the possibilities if we all supported those close to us in this way."
Rather, Paul tells us that we should, "Rejoice with those who rejoice" (Romans 12:15).