Most of you have probably noticed the growing government trends to distribute "safer" supplies for those who engage in "risky" behaviors, such as promiscuous sexual acts, drug use, etc. Here's just a sampling of some of their efforts:
- The US CDC touts that, "Condom availability programs (CAPs) began in the early 1990s and are one way schools can help prevent HIV, STD, and pregnancy among teens."
- The US CDC currently sponsors SSPs (Syringe Services Programs) for "Needs-based Distribution" of clean syringes for IV drug users, "as the evidence shows that this is the best practice for reducing new HIV and viral hepatitis infections."
- The Canada Interior Health Department produces helpful "Harm Reduction Pamphlets" for everything from "safer" sex techniques and supplies, to "safer" shoot-up advice for IV drug users, and "safer" smoking guidance for crack cocaine tokers.
- And most recently the current US administration has gone beyond helpful pamphlets, to distributing Safe Smoking Kits to meth heads and crack addicts they deem in danger of burns and injuries from their unsafe smoking apparatus. While the administration has feverishly tried to deny having gone as far as to even include "safe crack pipes" in these kits, investigation has proven otherwise, says investigative reporters at the Washington Free Beacon:
"While the contents of safe-smoking kits vary from one organization to another—and while those from some organizations may not contain crack pipes—all of the organizations we visited made crack pipes as well as paraphernalia for the use of heroin, cocaine, and crystal methamphetamine readily available without requiring or offering rehabilitation services, suggesting that pipes are included in many if not most of the kits distributed across the country."
These various programs cost taxpayers tens of millions of dollars to execute.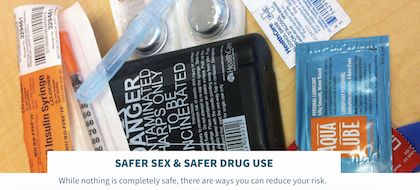 While all these "harm reduction" techniques might make sense on some earthly level, they make absolutely zero sense on any spiritual level. You see, there is no program, no measure — not at any cost — which can mitigate the harm of sin.
The Scripture is clear, "The wages of sin is death." We must not seek to mitigate the "harm" of it; rather, we must seek to irradiate it.
This principle is true not only for the "big," obvious sins of promiscuous sexual activity or drug abuse and addiction. This principle is true for ALL sin. Lies (even "white lies") are deceptions, and can lead to betrayals of trust and broken relationships. Unfaithfulness, covetousness, greed, envy, gossip, malice, etc., etc., etc., will all erode the soul, ruin lives (your own and others'), will destroy relationships with others, and most importantly, with Lord Himself.
Sin is always harmful. Full stop. Want to protect yourself and others? Flee sin and temptation.
"Then desire when it has conceived gives birth to sin, and sin when it is fully grown brings forth death" (James 1:15, ESV).
"Or do you not know that the unrighteous will not inherit the kingdom of God? Do not be deceived: neither the sexually immoral, nor idolaters, nor adulterers, nor men who practice homosexuality, nor thieves, nor the greedy, nor drunkards, nor revilers, nor swindlers will inherit the kingdom of God. And such were some of you. But you were washed, you were sanctified, you were justified in the name of the Lord Jesus Christ and by the Spirit of our God" (I Corinthians 6:9-11, ESV).
"Jesus answered them, "Truly, truly, I say to you, everyone who commits sin is a slave to sin" (John 8:34, ESV).
"Put to death therefore what is earthly in you: sexual immorality, impurity, passion, evil desire, and covetousness, which is idolatry …" ( Colossians 3:5, ESV).
"The death he died, he died to sin once for all; but the life he lives, he lives to God. In the same way, count yourselves dead to sin but alive to God in Christ Jesus. Therefore do not let sin reign in your mortal body so that you obey its evil desires" (Romans 6:10-12, NIV).